My favourite day in Morzine last summer
By Marley King (age 15) & Ben (age 6), Summer 2018.
My favourite day was definitely the one where we got our bikes on the chairlift and did a bike trip to the Fantasticable,which is the longest zip wire in Europe. We started out from the hotel after breakfast and rode down to the Super Morzine gondola which was just a short ride from the Hotel Hermine Blanche where we were staying. You can do the journey to the Fantasticable by walking, but I prefer mountain biking, which is a brilliant way to see the mountain. Way better than biking back at home!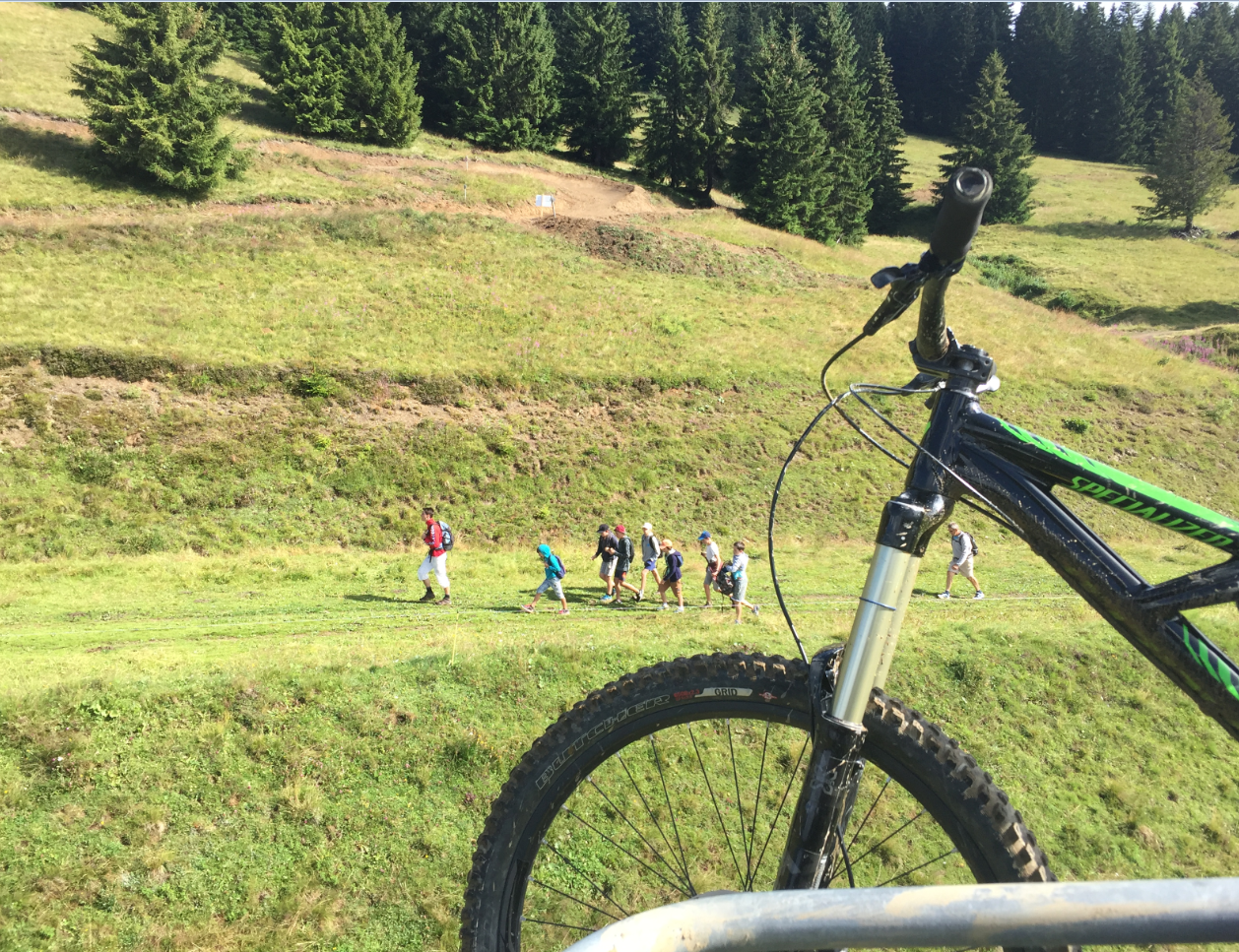 Some of us choose to walk.. Some choose to ride.... Taken from the Zorres chairlift
The lift ticket was pretty cheap (dad was paying anyway) and it took us up over the downhill bike tracks and jumps - so we got to see all the riders doing their thing.... First we took a gondola lift (like a bubble) then we took a chairlift, just like skiing! And our bikes were strapped to the side. At the top we didn't come down the downhill tracks - they looked a bit hard - instead we carried on 'cross country style' and cycled for 40 mins down these off road tracks which were pretty easy (and all downhill) until we came to some mountain restaurants in a place called Lindarets for ice cream.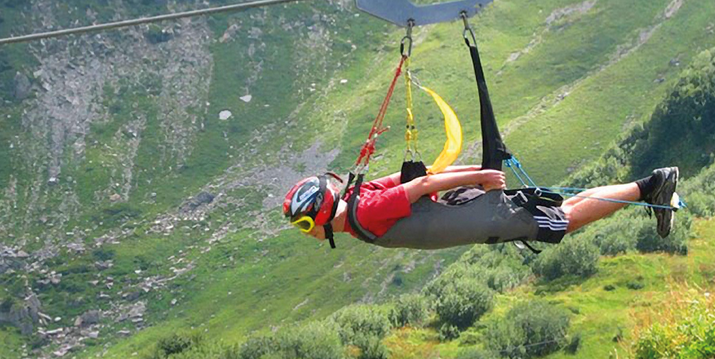 The Fantasticable - tension mounts!
After ice cream (coffee for dad) we took another chairlift but left our bikes at the restaurant this time. This lift went up to the start of the Fantasticable zip wire. Which is amazing! It's the longest aerial runway i've ever seen and we were traveling at major speeds all the way across a valley. Afterwards, we came back by chairlift and had another go!
Then - suitably stoked - we walked back down to Lindarets where the restaurants were, (which didn't take long), to hook up with our bikes again - before setting off for lake Montriond via the weird 'Village of Goats'. We stopped here for a drink and was amazed at all the goats which literally took over the village. A totally normal wooden alpine village with shops and houses and nic nac shops… but full of goats! Kids were loving the goats, my brother did especially! But I was more interested in the lake where we were going to go paddleboarding (our next stop).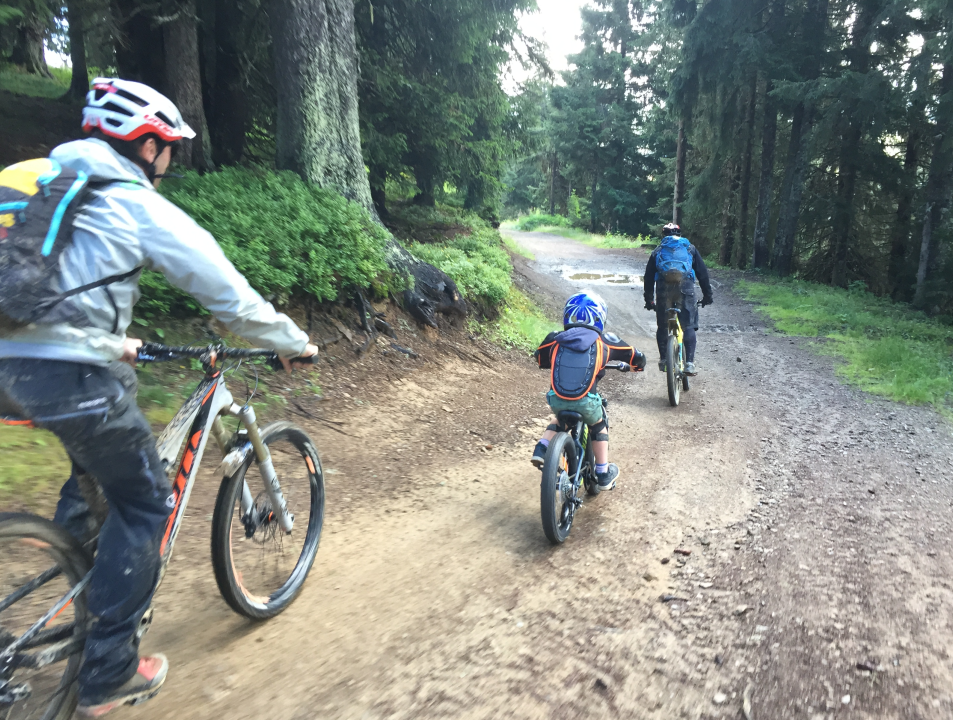 Ben (age 6) and Dad with our friend from ABC Sports. This is the trail off the back of the Zorre chairlift, and downhill all the way!
And to the lake!
We carried on cycling downhill all the way to the lake which was a road that switched back and had amazing views. I love downhill cycling! We hadn't had to go uphill once all day! At the lake we all had lunch at this really cool restaurant overlooking the water and then we hooked up with the paddleboard place to use our vouchers that Alpine Elements reps had given us.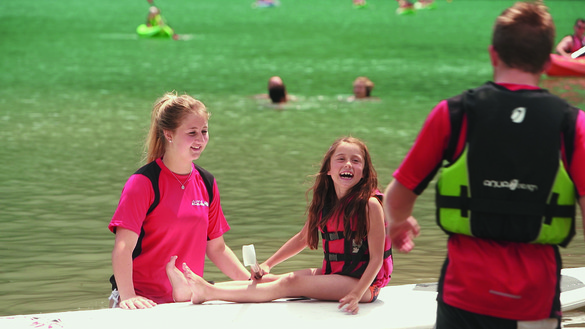 We paddle boarded and Ben kayaked at the lake after our EPIC day riding. Alpine gave us the vouchers and we used them but went back a second day later in the week!
Even my 6 year old brother (who came with us but wasn't big enough for the Fantasticable) was able to SUP around the lake so we all loved this activity. And after a lazy afternoon of swimming in the sunshine we headed back for afternoon tea and cakes at our hotel, which was about another 30 min cycle (again, all downhill) from the lake.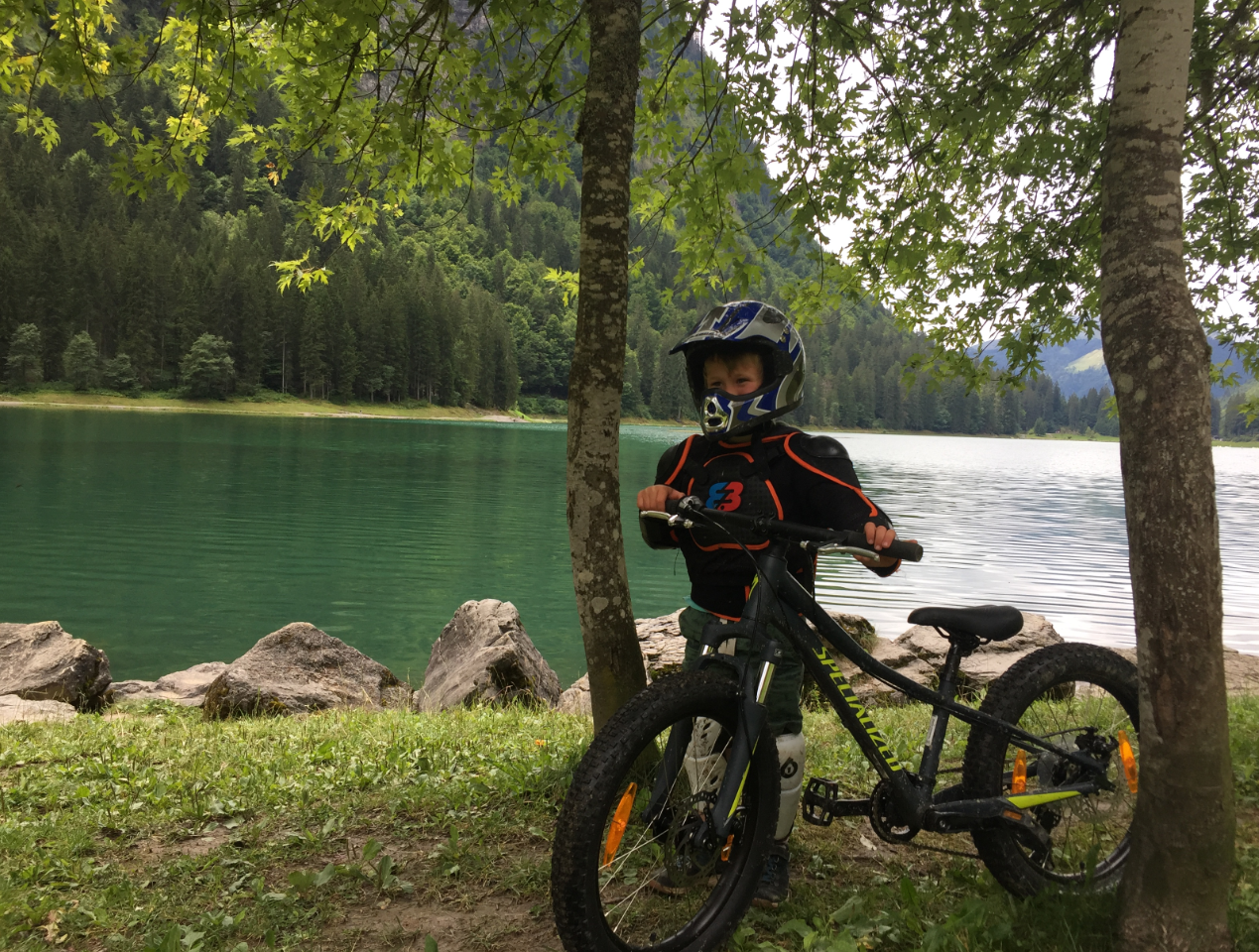 My brother aged 6 managed this awesome trip, here he is (with all the gear, courtesy of Alpine) at Lac Montriond. His bike had fat tyres and was ACE!
This was my best day out that we did all week. The White water rafting was pretty cool too, but this day had 3 cool activities all rolled into one; so it was deffo my best day!
By Marley King aged 15 and Ben aged 6
Back to Blog