Morzine Activities to try in the Winter
Activities to do in Morzine… when you're not skiing.
Morzine has made a name for itself as a resort for everyone - for all tastes and all ages - whether you're a snow sports lover, a summer alpinist or none of the above. All you really need is an appreciation of calm and beautiful places, fresh air and wide open spaces and you'll love it here - winter or summer!
Of all the mountain resorts, Morzine is one of the largest and most diverse. It is also one of the prettiest too. So if you're looking for more than just a snow sports break consider Morzine in the Portes du Soleil. You'll find plenty to do and here's just a taste of what's in store for the non skiers among you: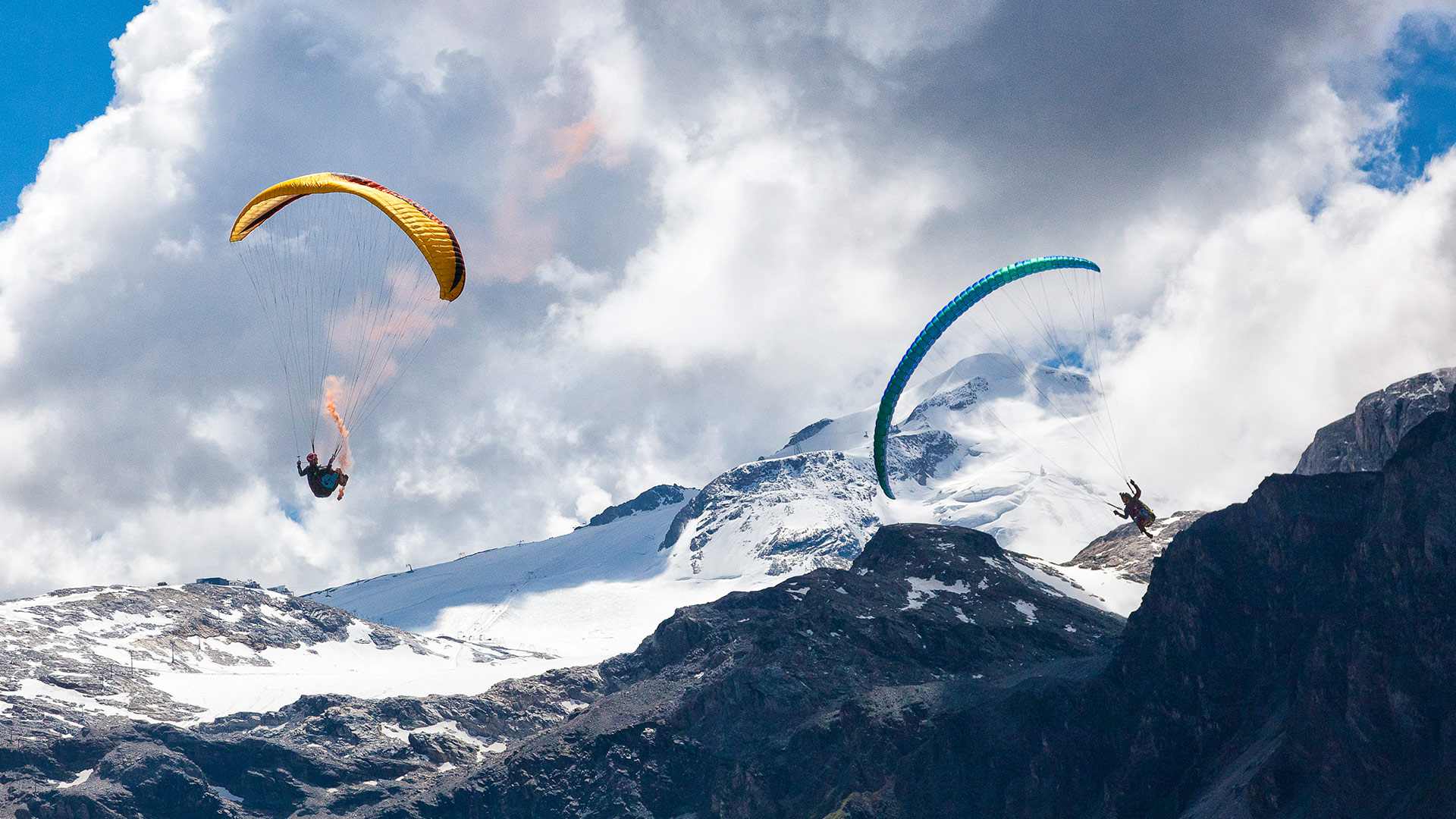 1/ Take to the skies!
Parapenting has to be one the most popular activities for our guests at Alpine Elements over the last 23 years. Take a tandem flight with an expert pilot and soar high above the valley floor. Flights last for about 15-20 mins and take place in winter and summer when the weather and winds are calm and stable, which is very often. It offers a great experience for ages 9 and up and you will enjoy minor acrobatics and spins as your pilot gives you a ride to remember.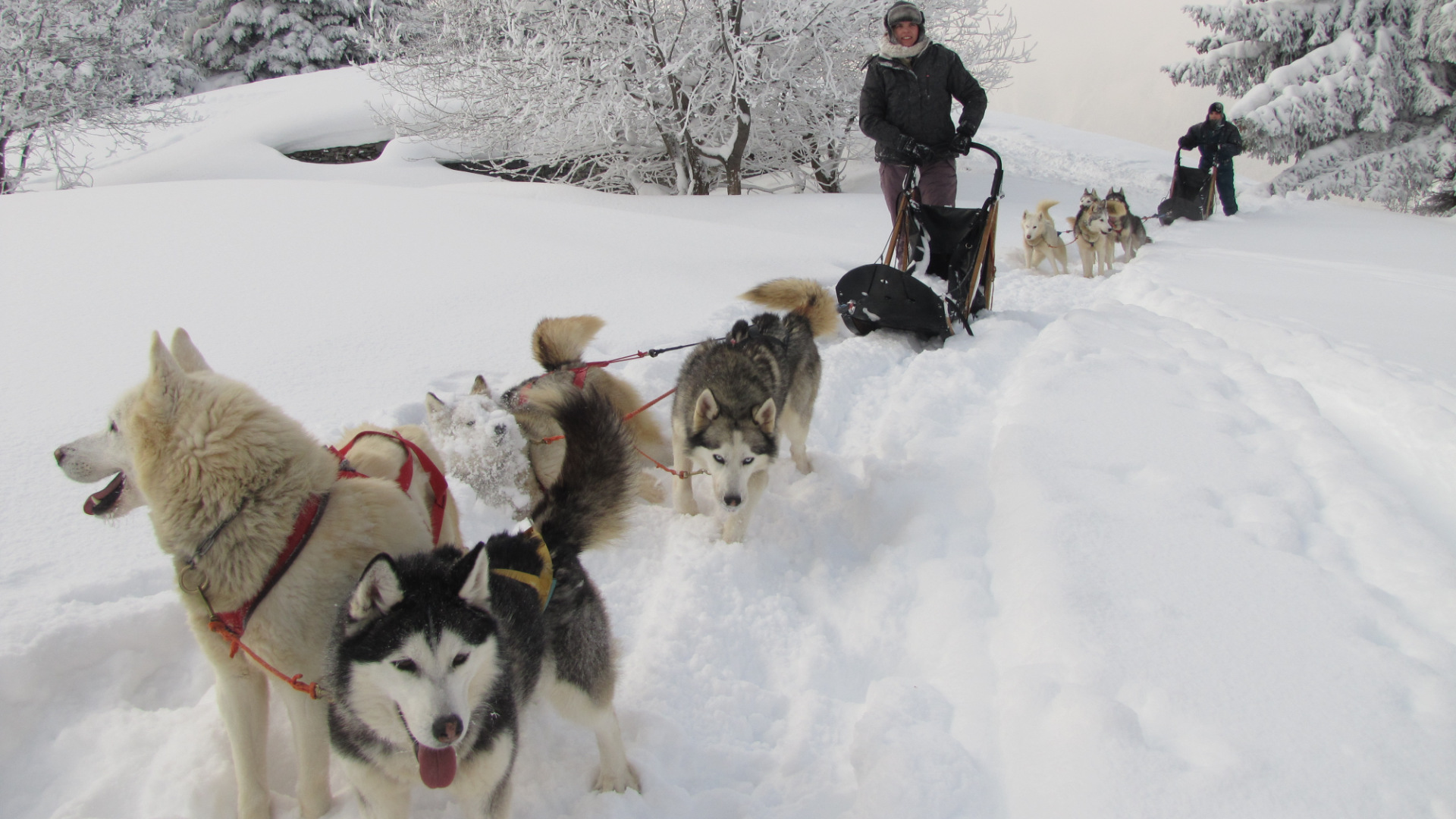 2/ An alternative drive through nature
Husky sledding takes place in Avoriaz and is accessible by car or by skis. It's a hands-on experience so be prepared! You will first get to know the dogs and these big soft creatures love to be petted and are simply adorable. Sledding is all about understanding your dogs' and their personalities and your instructor will encourage you to get fully involved and help you enjoy the experience as you drive your sled across pisted track and off-piste routes.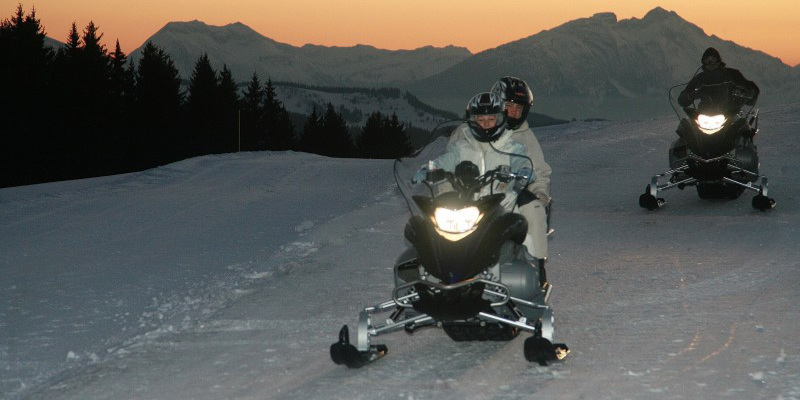 3/ Skidoo tours
Best at about 5pm when you have the run of the mountain to yourselves - after the skiers have gone home. Skidoo tours are led by two guides and their circuit winds through forest trails and offers you a magnificent panorama over Avoriaz. Prices with Avoscoot are 155 € (snowmobile rental, 1 hour, 1 or 2 persons)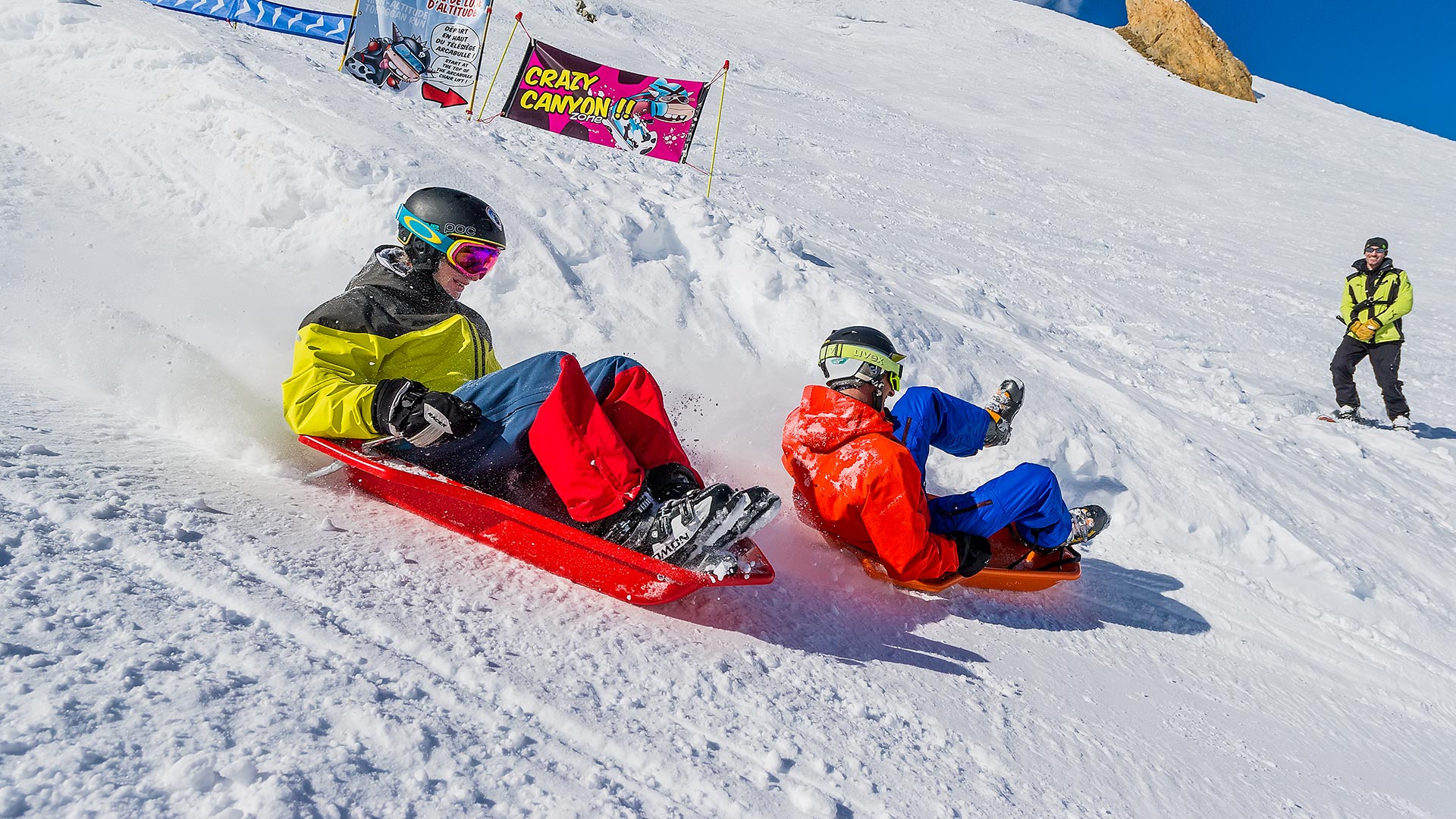 4/ Sledging, the old fashioned way
Grab a sledge from any number of rental shops in Morzine (€10-15 p/day) and go hit the Pleney piste! You can sledge anytime, day or night (the flood lights are on in the early evening) and hit terrific speeds as you zoom down the piste. Afterwards, grab a hot choc at the restaurant at the bottom of the piste - or something a little stronger! Popular with children as well as apres-ski-seeking grown-ups, sledging is a must-do activity.
5/ Relax… you've earned it!
Take a stroll down to Parc des Dérêches in Morzine centre. In summer it sports a 50x21m olympic pool (heated to 27°C), sunbathing decks, a giant 80m waterslide, a bouncy castle and all manner of family fun. In winter, it's all frozen over - so we'd recommend heading indoors where they've thought of every comfort that a hardworking skier (or non skier) needs. There's a 25m pool, (15m wide), heated, of course… A teaching pool… a paddling pool and… and, (most important this), a spa area with saunas and Turkish baths to name but a few relaxing facilities.
6/ An alternative to skiing
Snowshoeing is a favourite activity for non-skiing types. It allows those without an inclination for two sticks (or one) to get up into the mountains and take in the views of this incredible winter wonderland. If yo're not so familiar with the pastime of 'snowshoeing' then think of it as essentially strapping some tennis racquet style shoes to your feet and hiking about snowy paths that are either pre made or natural and powdery. Maps and guidebooks are available from our hotel receptions or the Tourist Office.
7/ Skiing… but without the downhill bit
Ski du fond, Cross country skiing, Nordic skiing… call it what you will… This is the art of skiing on extra thin skis whilst using your own locomotion to propel yourself around snowy pathways and premade routes. Routes are made by piste bashers to make skiing easier and will take you on a beautiful and crowd free journey through forests, along rivers and into the mountains with restaurants thrown in for good measure. Competition Nordic skiers will follow a course and shoot targets en route, (just to spice things up), but we're pretty sure you won't need a rifle for skiing around Morzine. Think of it like skiing but without the crowds and rowdy lift queues. And of course, it's totally back to nature.
8/ Mountain biking in snow
With Morzine's status as a 'biking capital' during summer you can imagine they'd have something in store for winter! From one hour taster sessions to guided excursions, local company Evo 2 offers electric snow bikes for rental. There are a number of trails in Morzine, Avoriaz and Les Gets that are perfectly suited to, (and perfectly safe for), the sport of 'snow biking'. These are snow-specific bikes that come with extra wide-and-chunky tyres and, if you're sensible, you'll choose one with an electric motor to make the most of the terrain and see as much as you can.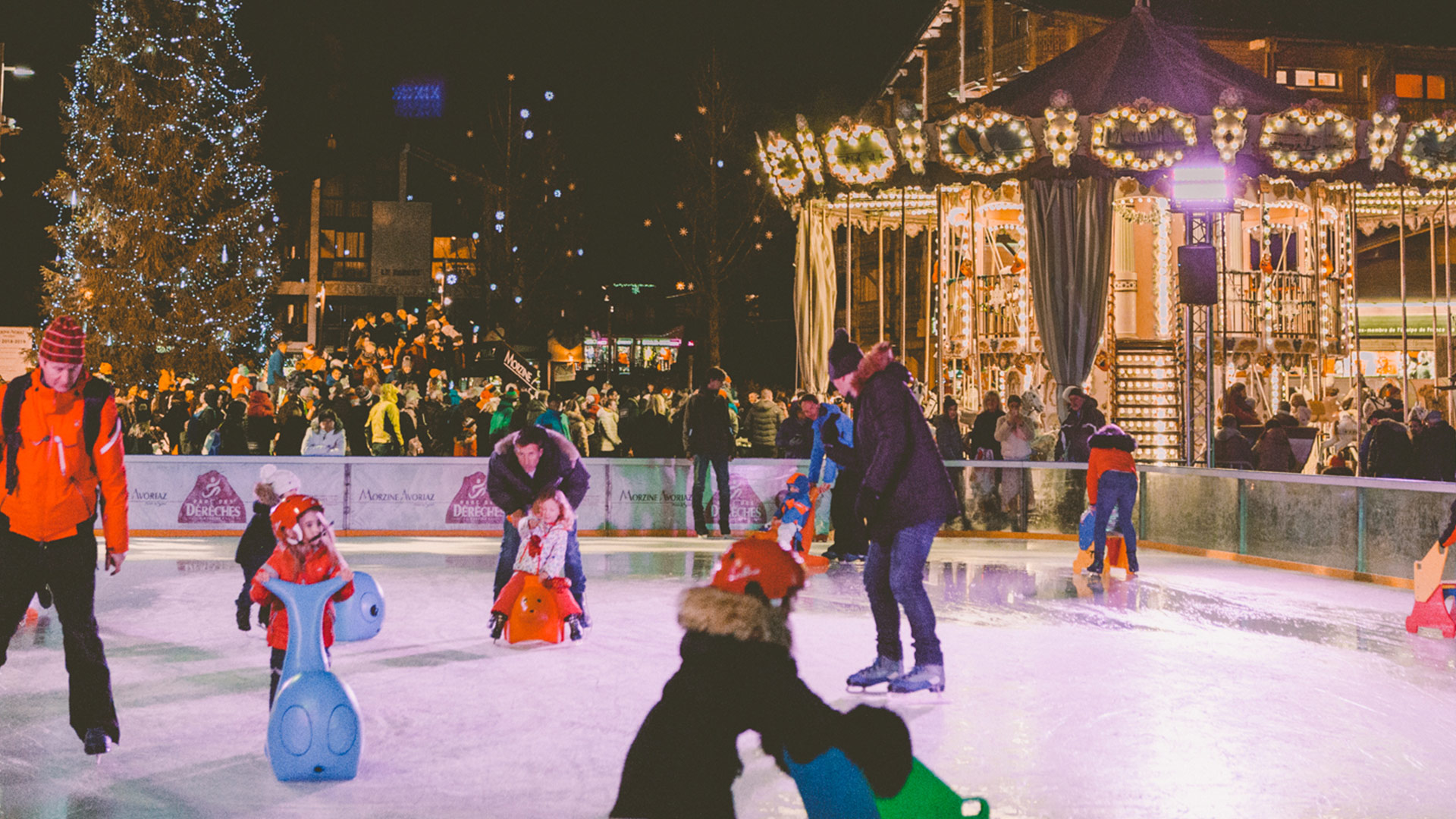 9/ Go to après-ski along with everyone else
You don't have to ski to après-ski and frankly most hardened après-skiers probably don't take skiing that seriously anyway! So if you don't ski or board then you'll always find some like minds partying into the wee hours. And that's what makes Morzine so much fun! There are a great many locals, tourists and seasonaires that aren't especially there to ski, but après-ski is on their priority list and by that we mean some serious hands in the air partying! Morzine is making its name as an 'all rounder' of a mountain town, where, for some, the gastronomy and the party scene are more important than the snow.
10/ Take in the mountain culture
Every ski resort has its old town. Even if, for some, the old towns are now very detached and almost invisible among the complexes of high rise and concrete "pile 'em high, pack 'em in" apartments. Not so for Morzine. Morzine has grown from farming roots and was a simple farming town just 60 years ago. That culture still survives today and although many of the last true farm buildings are now being turned into luxury condo's, a certain chalet-style charm has established itself and the local planners have done well to avoid the temptation of going the route most other resorts have fallen down with legions of high rise buildings.
This is the secret to Morzine's success. It has retained its prettiness, it's old town centre, the church, a smattering of working farms and a die hard crew of locals - born and bred - who just won't give it up. Their culture that is.
You'll enjoy open air markets, music festivals, taking a trip around a working farm (in summer), the goat village (which is a village full of goats), a fish farm, cheese factories, regular festivals and the sight of cows aplenty grazing the alpine plains in summer.
Back to Blog