Family summer activities in Morzine

Your guide to some of Morzine's best family-friendly activities
Being at the centre of one of the World's largest summer activity areas can bring Morzine one (desirable) problem: choice! The Portes du Soleil spans the Franco-Swiss border, from Les Gets to Champery via Morzine, Avoriaz and a host of smaller villages and within that vast area are myriad activities. There're more than enough activities to fill your holiday – And families don't want to miss out (you've only got a week, or two) so, where to start? Here is a shortlist of ideas, all included with Alpine Elements summer alps holidays.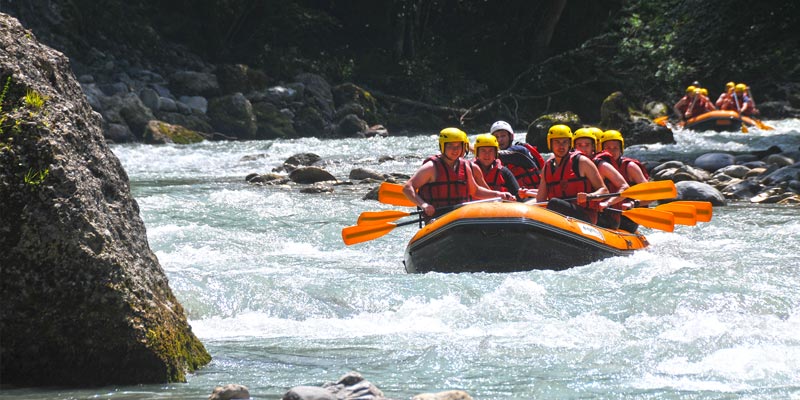 Whitewater Rafting
Many of us are used to a vision of the Alps as a snow-covered winter playground, which it is – for part of the year. That white duvet melts in the Spring, producing amazing waterfalls, and more than enough water to fill the river beds and streams, shallows and rapids. These play host to exciting activities such as rafting, hydrospeeding and canyoning. A professional, experienced guide takes our guests in rafts through some quite stunning scenery, maybe spotting an eagle as you float downstream. By the end of the journey you will have a huge smile on your face, and marvellous memories – with maybe a picture or two to remind you!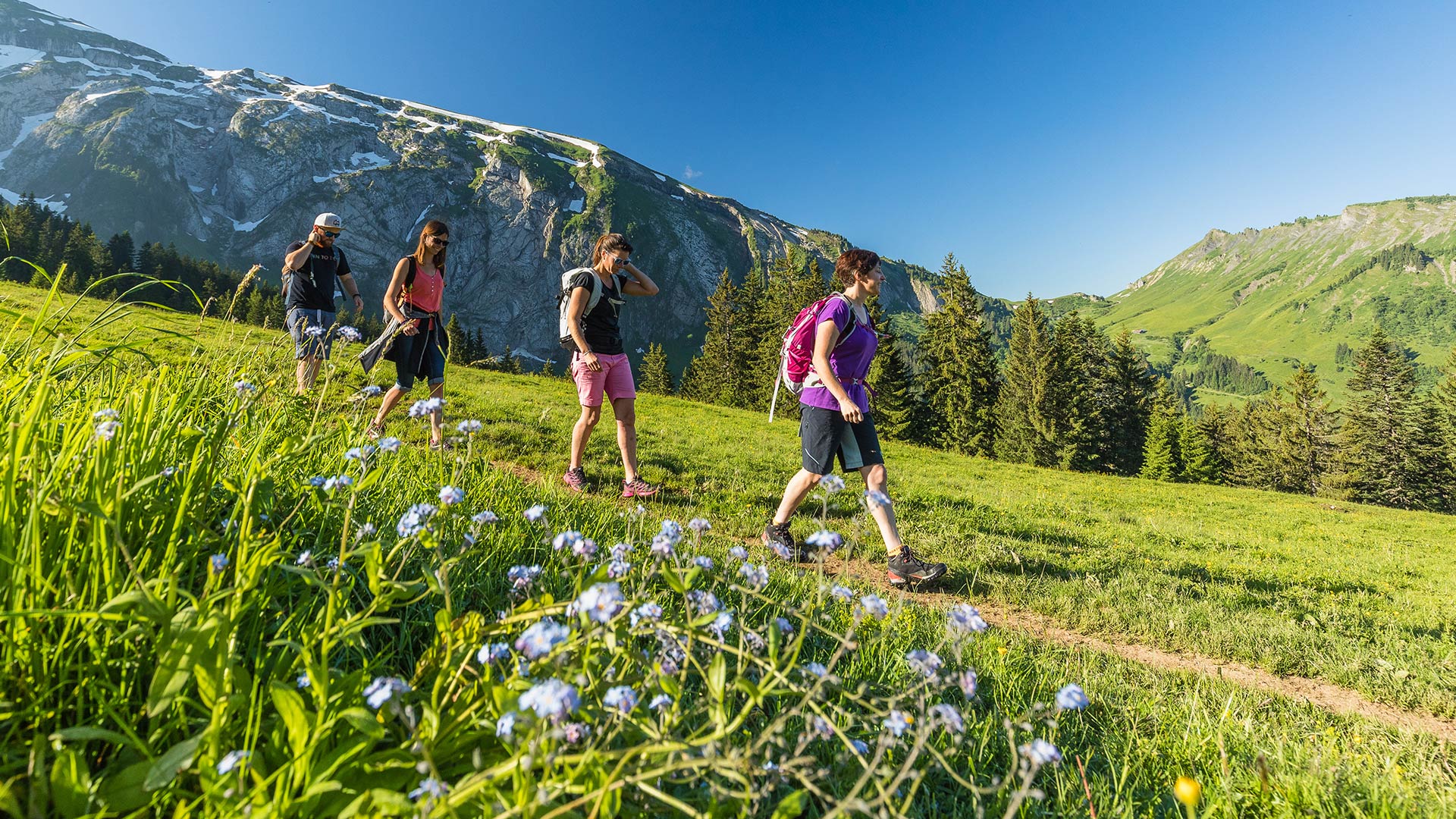 Walking the high alps
The Portes du Soleil opens more of its lift network in the summer than anywhere else in the world. Walkers and Hikers of all abilities can quickly reach the high alps routes which would normally take a day to achieve. These routes can open up incredible vistas, and our professional guides know exactly where to take you for the clearest streams, jaw dropping waterfalls and expansive views, and the best picnic spots!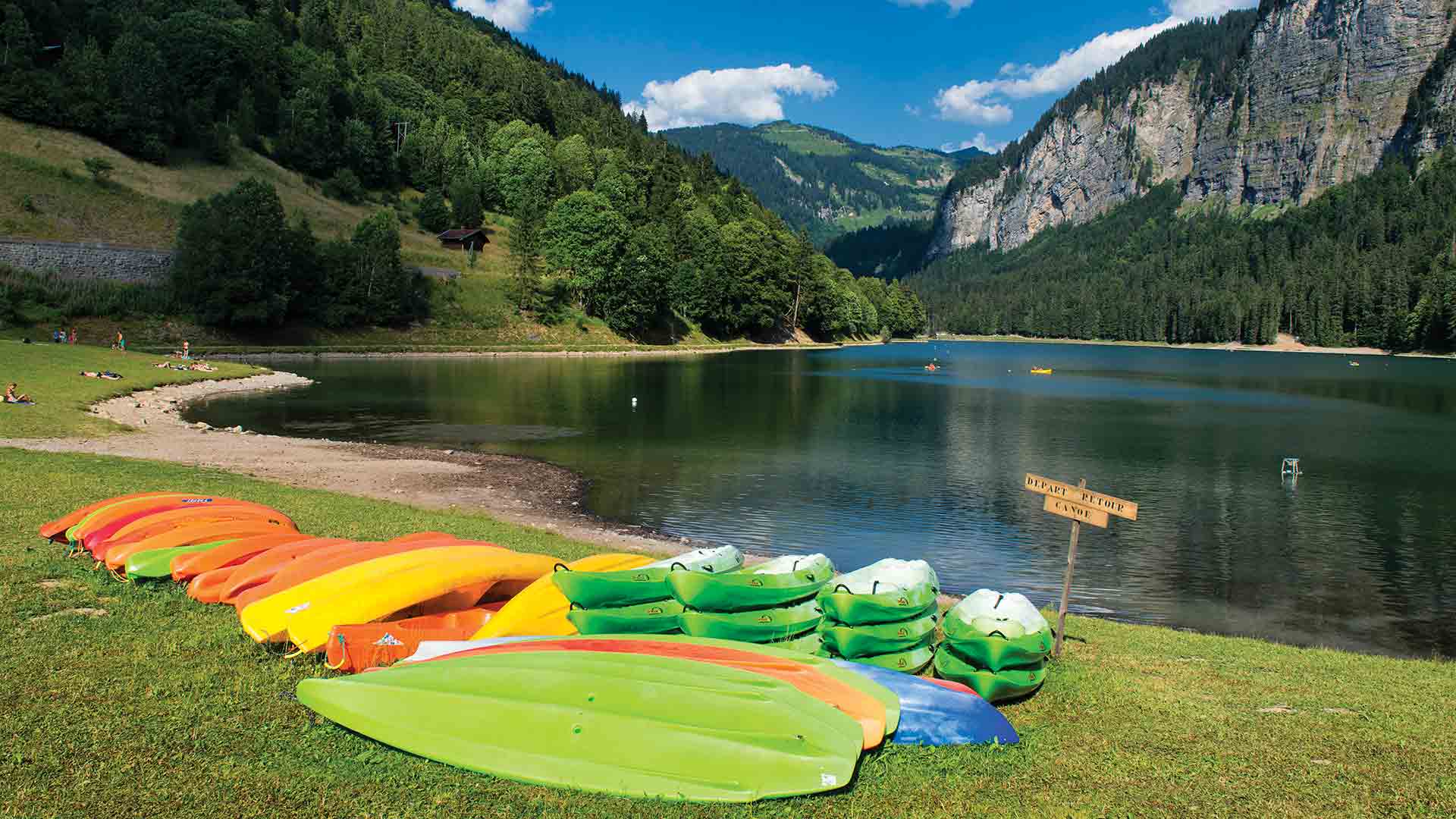 Paddleboarding on Lac Montriond
The wooded lake between Montriond and the 'goat village' of Les Lindarets is a real alpine gem. Each of our guests is able to have a session on either a paddleboard or a kayak, included with their holiday. For families, there is a secluded, shallower section of water, separated from the main lake, and with its own sandy beach. The lake's shoreline also plays host to pony trekking, and a kids electric jeep circuit. Overlooking the lake are two cafè/restaurants, just right for that emergency ice cream stop! At the far end of Lac Montriond is a beautiful waterfall, which is well worth the walk.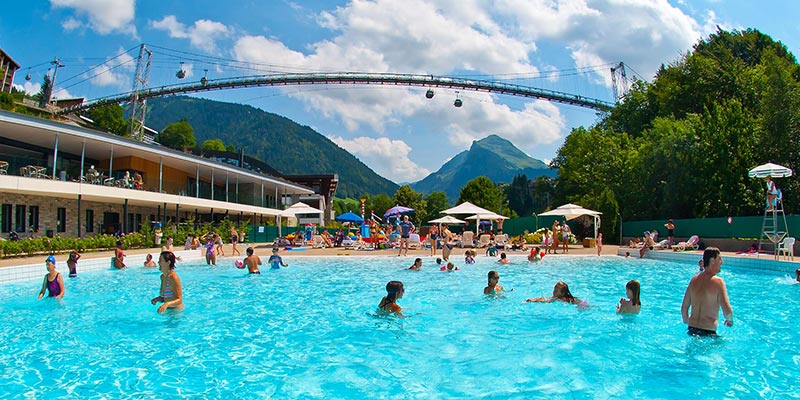 Aquatic Centre
Being a year-round holiday destination, Morzine is able to offer facilities which other resorts cannot; The Aquatic Centre is one of those. Below the Dereche activity park, and the suspension bridge, the indoor and outdoor pools are terrific places for families to enjoy. There is a separate pool for the youngsters, as well as a twisty water slide for the more intrepid. We include 6 days of access to the Aquatic Centre so you can choose when to go, and won't miss out!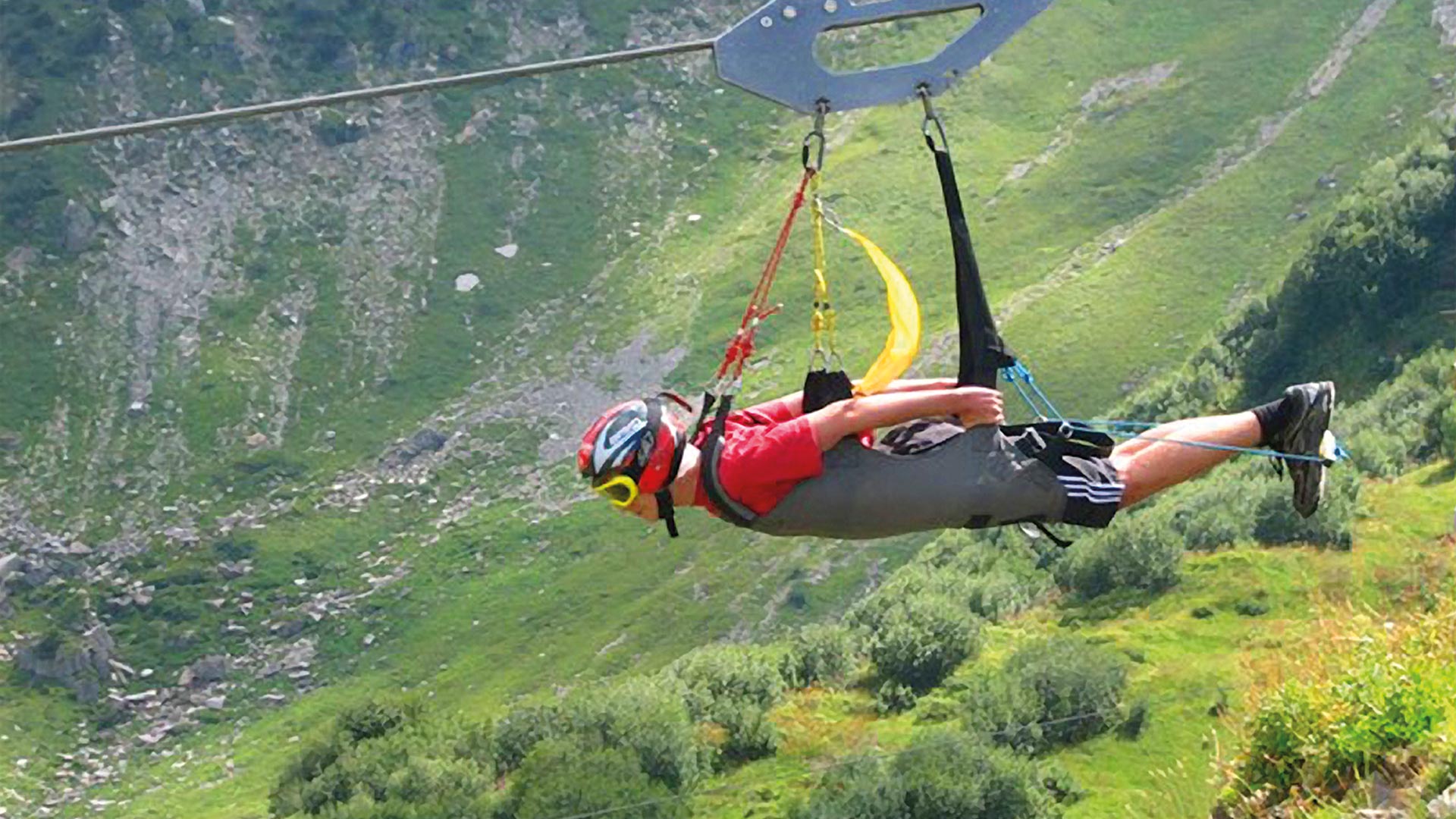 Take a lift to somewhere new!
The lift system is not just there for hikers and bikers, it offers access to other attractions and, the pedestrian pass is included with Alpine Elements holidays. Les Lindarets is one of our most popular family destinations, where goats have priority as the roam around this tiny village.
The Fantasticable is a 1.2km long zipwire, which is a real adrenaline buzz for adults and bigger kids (weighing 35-120kgs). The lift system is included with your holiday and, will get you all the way to Chatel to going zooming along, 240m above the ground at almost 60mph! Fantasticable from €36.
Take the bus to Les Prodains for the lift to Avoriaz and the fabulous indoor aqua centre: Aquariaz. Here you'll find lush vegetation and rocks beside a river with a gentle current, a slidewinder (a sort of aquatic halfpipe), a water playhouse, a paddling pool, a large pool with climbing walls, massage benches and even an open-air hot tub! Aquariaz from €6.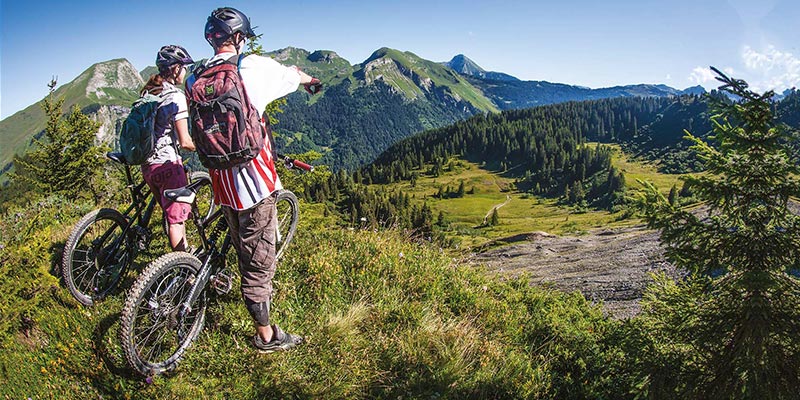 Biking
There is no question that Morzine (and Les Gets) are rightly renowned for their superb biking, both in the bike parks and the gentler valley routes. Those gentle routes alongside the River Dranse, or down through Les Lindarets (for the goats) are ideal for families. Lifts are adapted for bikes, and the lift attendants are there to help get your bikes off the lifts. The more adventurous families can choose the Green runs under the Zorre's chairlift (which is reached from the town centre Super Morzine cable car). The cost is just €5 per uplift. Once up, there are some great mountain restaurants, heaps of picnic spots and wonderful views.
Back to Blog