Best Summer Family Activities In The Alps

The Alps are perfect for family Summer holidays
We've been creating holidays in the French Alps, for families, for over 20 years - so we reckon we know a thing or two about what's great (and not so great) to do in the lakes and mountains of France.
The French Alps were made for families! And twenty years of operating has told us that most families prefer to do things together, rather than apart. That's why we've developed our holiday programme: to give families with kids of all ages and tastes a very special experience where Mum, Dad AND the two little 'uns (or not-so-little ones) can enjoy the activities TOGETHER!
Here's just a pick of six of the best... One for every day of your week!
Whitewater rafting
There's nothing better than getting wet with a free session of Whitewater rafting. Yes, we giveaway this activity for free with all our holidays because 1/ it's a lotta fun, and 2/ it's a great 'ice breaker' of an activity to do on your first day with fellow guests from, our hotels. It's a hoot for all ages 8+. You just need to be a fairly confident swimmer.
During the activity your instructor (and guide) is with you in the raft at all times and your 8-10 man raft will weave its way down the rapids, spinning you around, dousing you with water and giving you a great reason to cling onto the person sat next to you! During the ride, the raft will pull over for a stop and you'll be offered the unmissable opportunity to hurl yourself off a rock and plunge into a deepwater pool. Or just sit by the side and watch everyone else!
This is a free Activity with all Alpine Elements holidays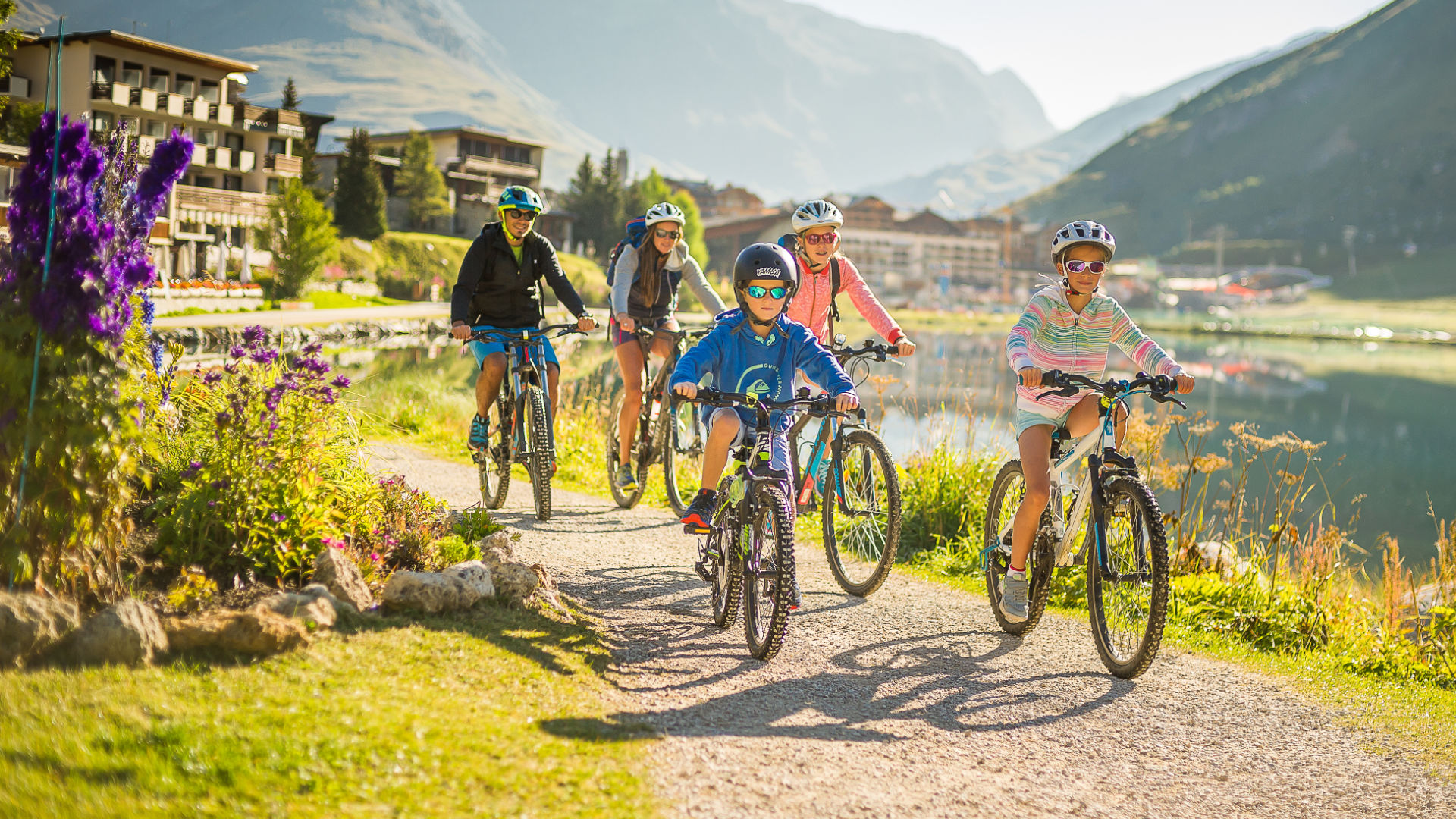 Mountain biking
The Alps were made for families, but they were also made for biking (road biking and mountain biking)... However, let's start with mountain biking. The Alps have some seriously great rides and lifts to get you back to the top again, so you'll never have to ride uphill again!
Most French resorts (Morzine, la Plagne, Les Arcs, Chamonix, Tignes, Val d'Isère) have lifts open all summer (July and August) with a network of trails and paths that suit all ages and not just the experts. Liftpasses are from €5 per uplift or €100 for a week-long pass (unlimited)
The biking terrain can be quite technical and there are resorts for families and resorts not-so-suited for families. We'd urge some caution around the traditional 'skiing greats' like Val d'Isère, La Plagne and Chamonix. The terrain here can be steep and there are limited family trails unless you confine yourself to the valley floor. We focus on Morzine which has some great family rides as well as world class downhill to keep gung-ho mum's and dad's busy while we look after your little-un's in our kids club.
Our Active Team provides route cards and suggestions for a few great 'days out' for family bikers and we even include hire bikes for free with our holidays, backed up by a team of mechanics to keep things rolling; because one thing you'll need is a good quality, well sorted bike to ride in the Alps
One thing's for sure - whether you're a beginner rider or a family looking for a (very) fun day out - then you're going to want to give biking a go!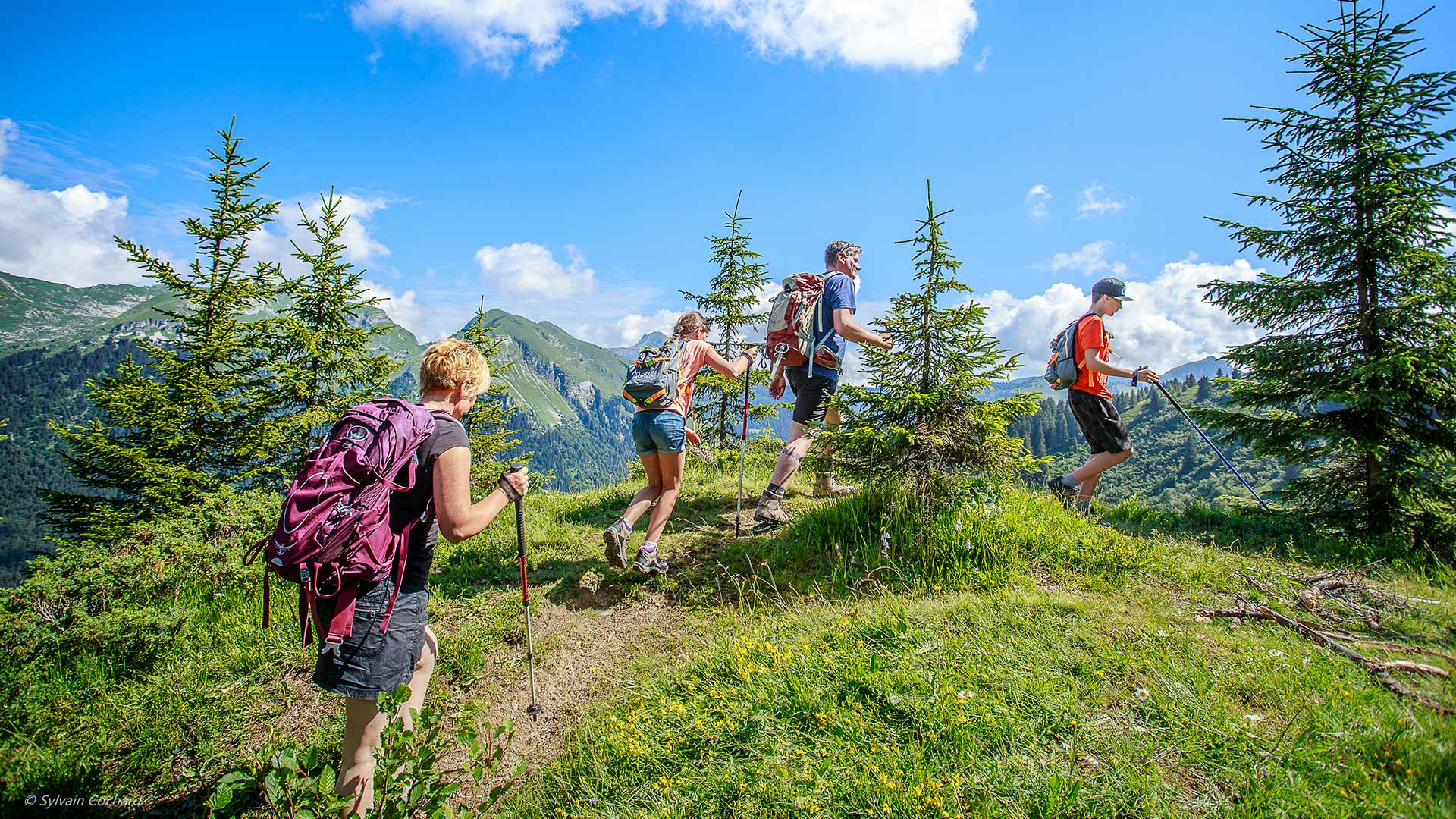 Walking & Hiking
Most French alpine resorts open during summer will have lifts for walkers and hikers. We even give a free lift pass to all our guests in Morzine so they can get to high vantage points easily and cover many miles of terrain - even spanning over into neighbouring Switzerland. It's not uncommon for walkers & hikers to cover 30 kms in a day using the lifts and you'll see beautiful vistas, lots of wildlife and have the chance to dine in quaint mountain restaurants along the way.
Bring some good walking shoes or trainers and even walking poles for that Nordic Walking experience. We offer poles at our hotel reception. Poles are great because not only do they propel you along, but they also work the upper body too.
Lift passes are free with our Active pack on Morzine holidays with Alpine Elements.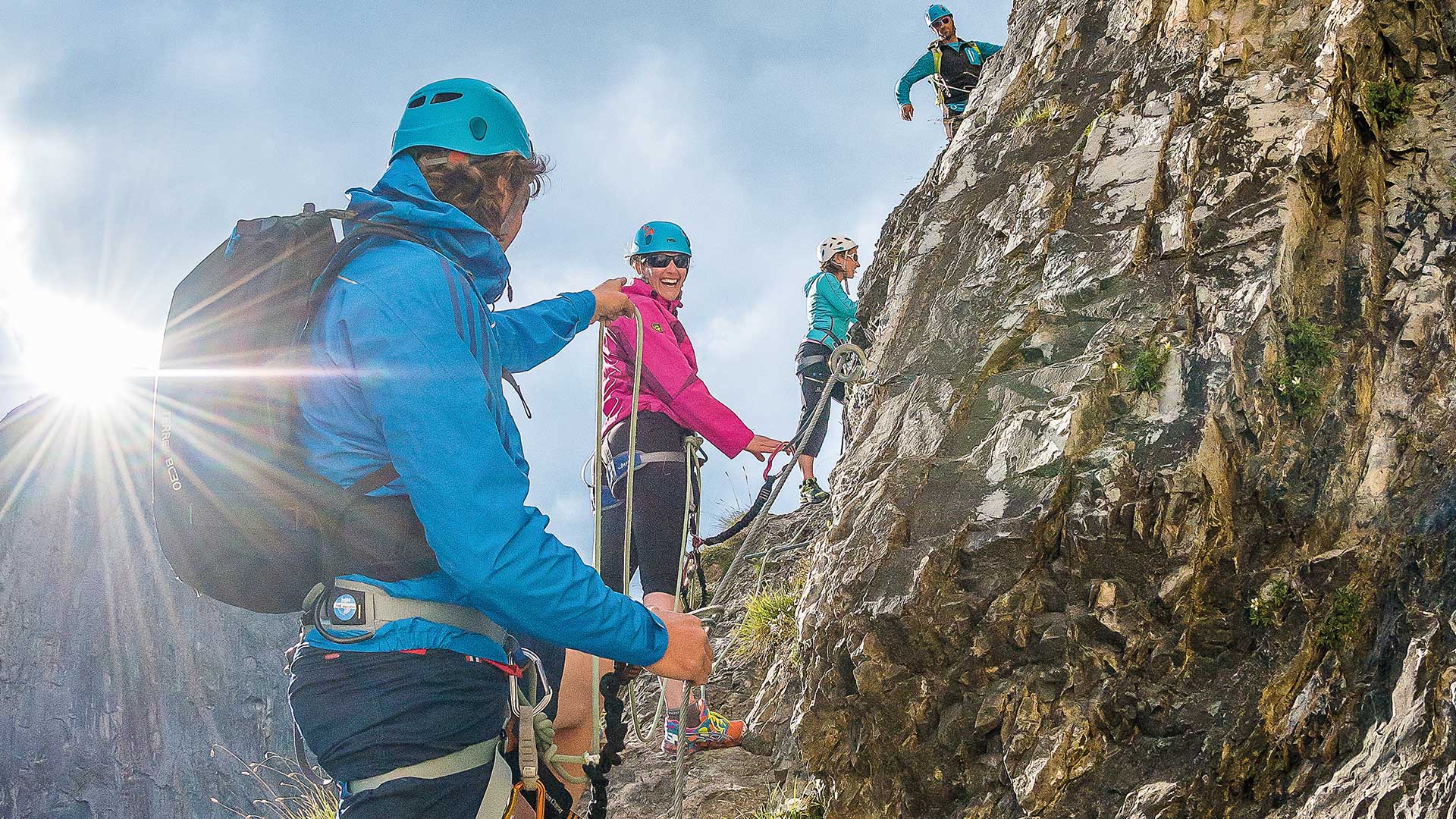 Via Ferrata
Most French resorts will have Via Ferrata routes. These are high mountain routes pre-laid with fixed climbing aids like wire ladders, rungs, hand holds and pegs set into the rock face. So, roped up and led by an instructor, you can climb those hard-to-reach places more efficiently and your little ones can join in too. It's a great excursion, best done in the company of fellow guests or families from our hotels.
Via Ferrata gives everyone an opportunity to move through exposed alpine landscapes with the minimum of equipment. Via Ferrata are suitable for all ages and abilities from 8 years and up.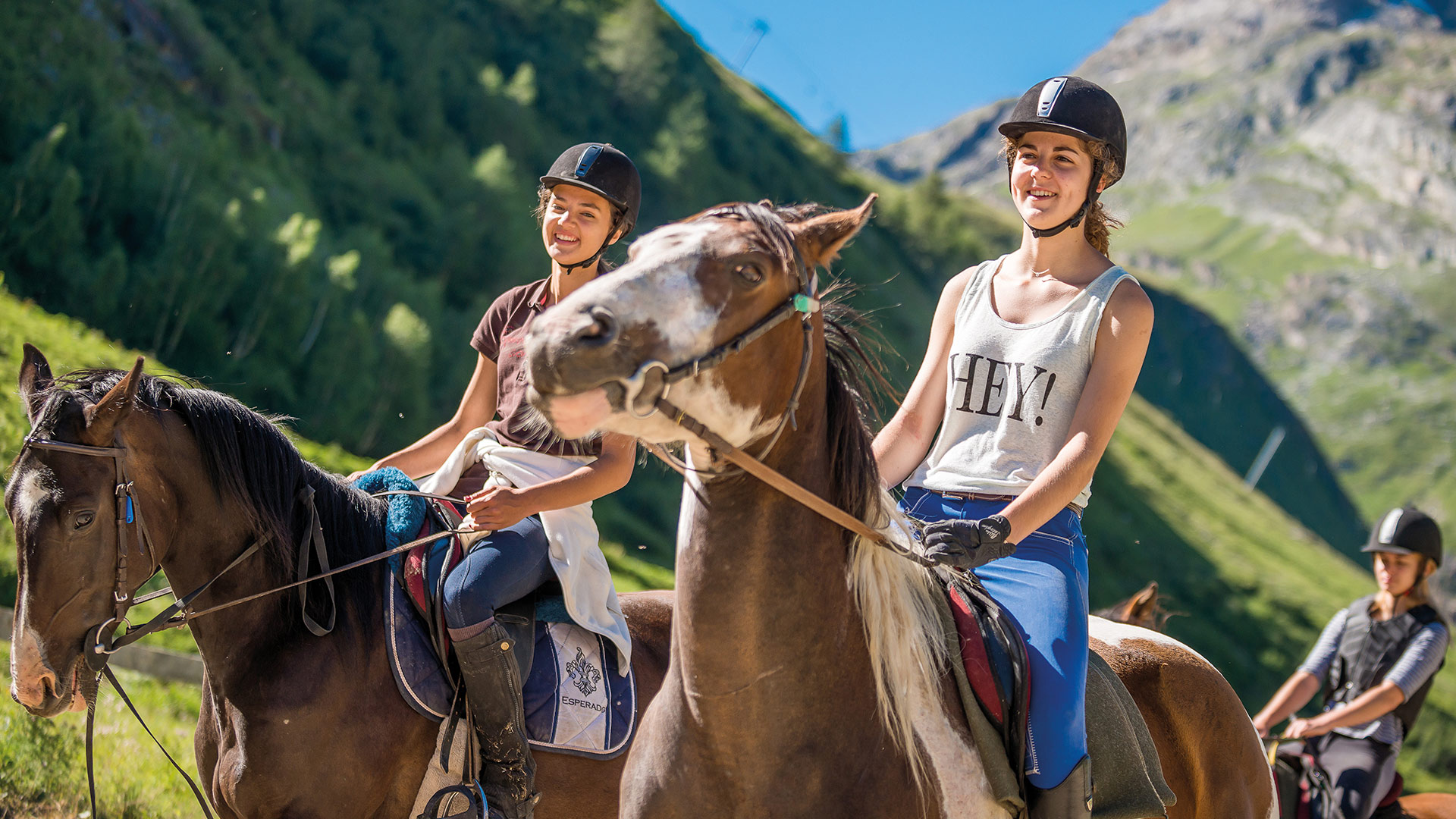 Horse riding
You'll find an equestrian centre in most resorts like Chamonix, Morzine, La Plagne, Méribel, Tignes, Val d'Isère. You'll be able to go for a hack or do a half or full day ride (guided or otherwise) and see some great alpine scenery (and wildlife) from horseback. Tread the pathways unknown to common-all bikers and walkers and see a side of the alps that only a horse can show you. All ages from 6 and up are suited to pony and horse treks.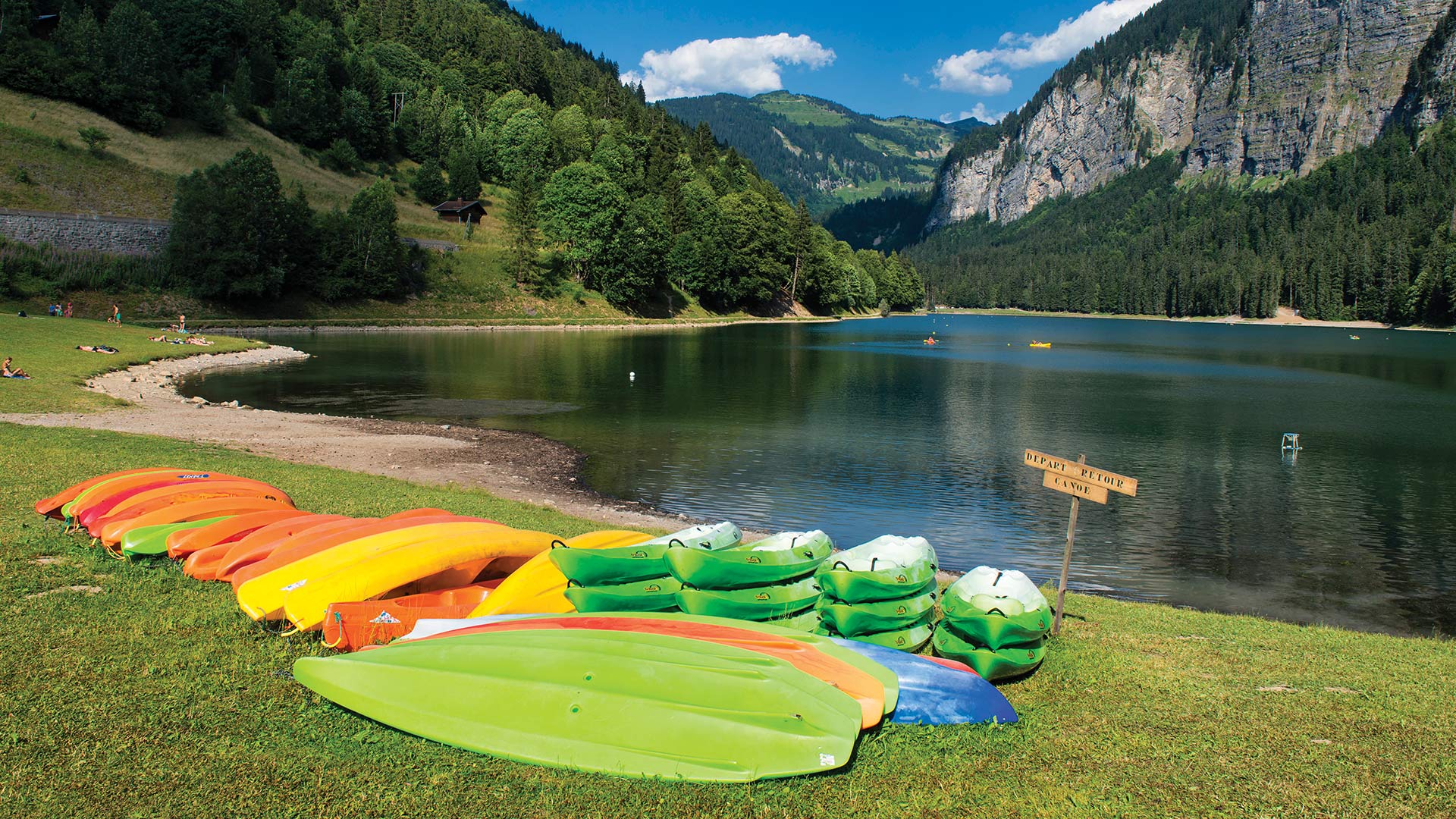 Mountain lakes
Most resorts have mountain lakes but not all of them are particularly good! We reckon there are only four really good ones if you want to do some activities on them. Two are in the resorts of Morzine and Tignes. And then there's lake Geneva (Lac Leman) which is 30mins from Morzine and lake Annecy which is an hour or so drive from most resorts if you fancy just a day trip. The latter two are just for day trips but great for waterskiing.
Lac Montriond in Morzine is a beautiful mountain lake - about 1,5 to 2km across and offers paddleboarding, kayaking, wild swimming, grassy sunbathing spaces and a lovely lakeside restaurant for lunch.
The lake in Tignes is the centrepiece to this active sports resort and as you would expect from Tignes offers some weird and wacky activities from 'Walking on Water' balls, to fly fishing and giant slides into the lake, as well as more traditional paddleboarding and kayaking.
Back to Blog