Beginners Ski Guide: Lessons, Gear and More!
Table of Contents
Skiing – a Great Experience
Skiing is an activity with several benefits – physical, emotional, and social. But most skiers learn about all that after skiing for several years.
So, what was it that made them try skiing for the first time?
It's the experience of skiing itself – a unique blend of sheer thrill, excitement, awe and fun which is almost impossible to describe in words, but ...[highlights] once you feel it for the first time, you are likely to be enslaved to the snowgods forever.
Skiing is a great way to feel happier and healthier. All passionate skiers describe the experience with all sorts of superlatives and admit that these intense emotions are the chief motivating factor.
Besides, the scenery adds to the whole other experience.
Majestic views, wild landscapes, bold cliffs and dense forest dressed in white – skiing is a sport you can enjoy only in such surroundings. Can you ask for anything more?
The Physical Benefits of Skiing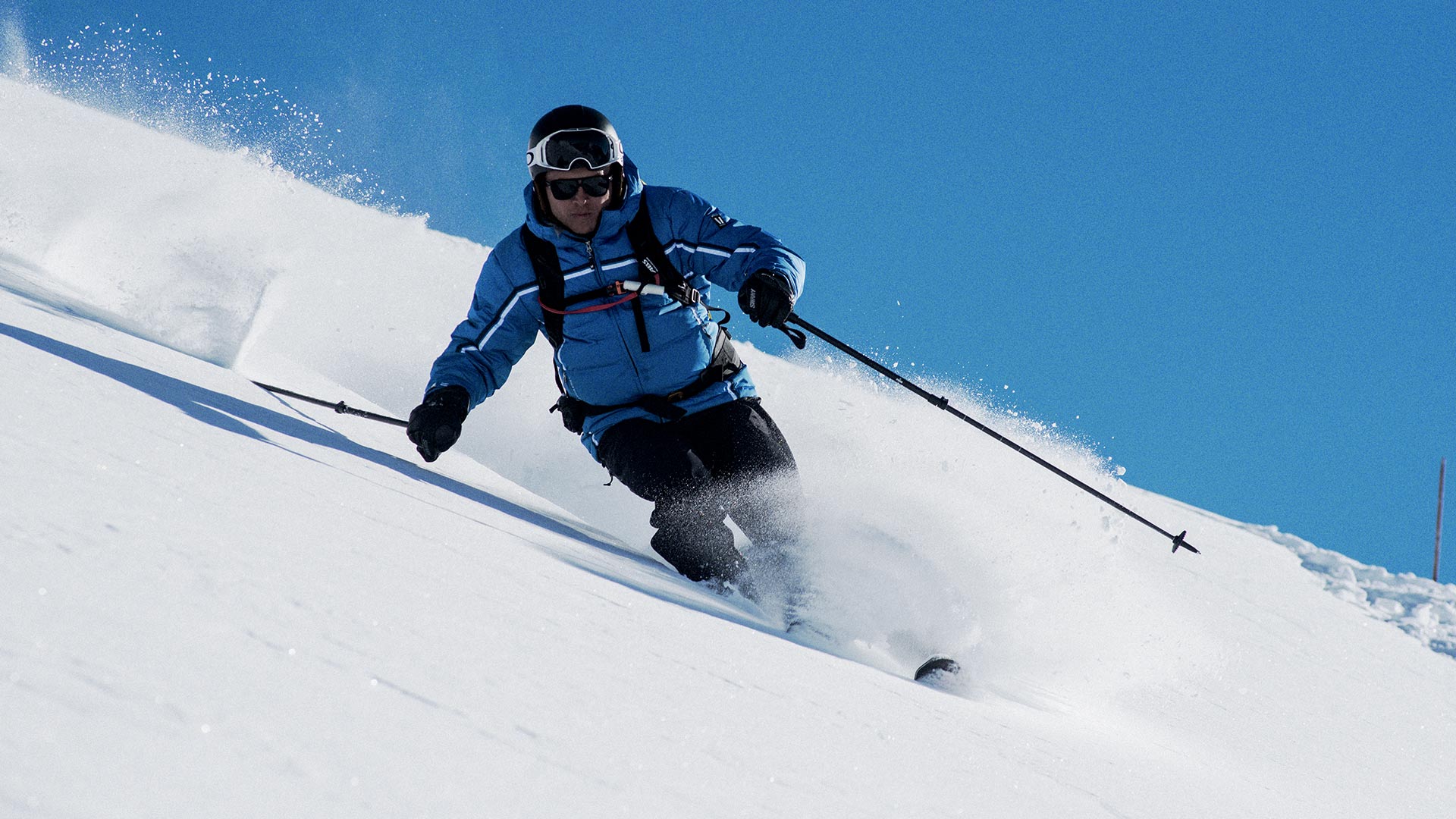 Skiing is a wonderful way to get in shape and improve your physical condition. Except for the calories you will surely burn and for the general rejuvenating feeling, skiing can benefit your body in several ways:
Skiing will improve your ability to feel and control the position of different body parts – a skill generally known as "proprioception". Skiing demands good balance and limp coordination and it also improves cognitive capacity. It is better than most sports because it involves the use of aerobic and anaerobic energy systems, while forcing us to make quick decisions, thus improving our perceptive powers.
Skiing will strengthen your bones and joints, especially your knees, which endure your body's tension and weight. Thus, besides having the time of your life gliding down the slopes, you are at the same time reducing the risk of bone damages and osteoporosis.
Skiing boosts your spirits and is a great antidote for melancholy and depression.
Skiing increases cardiovascular endurance and does wonders for your figure and striation, especially in the lower body muscles (thighs, hamstrings, quads and gluteals) because it puts you constantly in a squat position.
It promotes deep sleep (several physicians recommend skiing to people suffering from insomnia) as well as healthy eating habits.
The Social Benefits of Skiing
Skiing is an outdoor activity that can be accessed by almost anyone and is a great way to have fun whilst:
meeting all kinds of people and making new friends (everyone loves the apres ski);
gathering some old pals and sharing unforgettable experiences;
strengthening family bonds.
building strong relationships and confidence with business partners and colleagues.
Learning How to Ski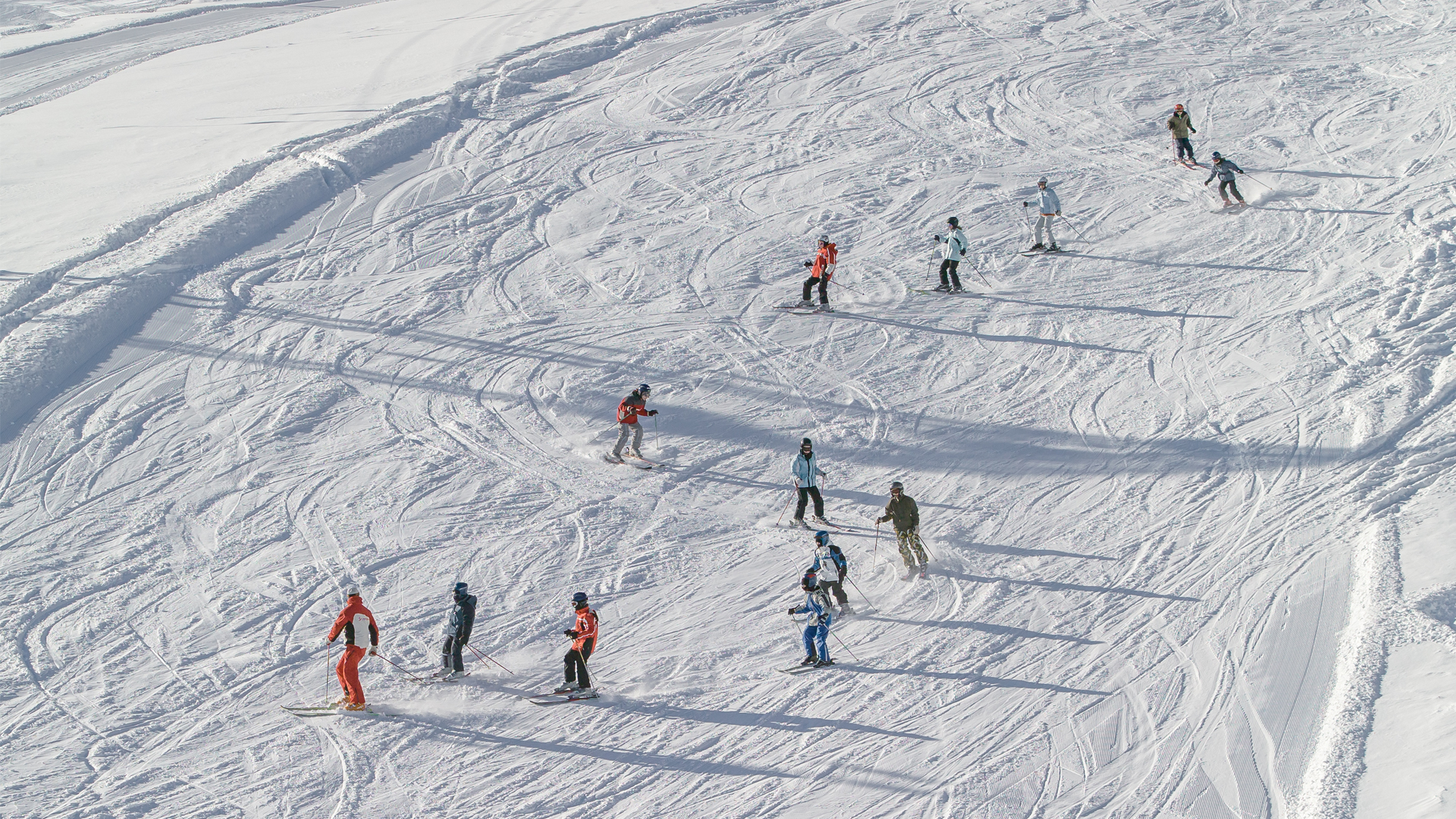 Learning how to ski requires two things: some snow and an experienced instructor. Britain has a vast array of ski slopes – all the way from Glasgow to Hemel Hempstead - and excellent indoor snow facilities, which are just perfect for learning how to ski.
Your best options include:
The Hemel Hempstead Snow Centre in Hertfordshire – is has a 160m real snow slope including boxes, rails and kickers for freestylers.
Snozone in Buckinghamshire and Castleford, West Yorkshire - two indoor snow centres with real snow slopes and new freestyle terrain built each week.
Chill Factore in Manchester - UK's longest indoor real snow slope.
Cardiff Ski and Snowboard Centre – with a 100m long slope.
Ski Rossendale in Rawtenstall, Lancashire - it has a 200m main slope and a freestyle park.
Suffolk Ski Centre in Ipswich, Suffolk - an outdoor dry slope, 180m long.
Snow Factor in Braehead, Glasgow - an indoor slope 168m long with real snow.
Snowdome in Tamworth, Staffordshire - boasting a 170m main slope and 2 separate learner slopes.
Snowtrax in Christchurch, Dorset – a dry slope and UK's largest ski retailer store and workshop.
Llandudno Ski Slope in Llandudno, Conwy - Britain's longest toboggan run.
Plymouth Ski Slope and Snowboard Centre - the longest artificial slope in the South West.
Gloucester Ski and Snowboard Centre – it has a 240m main slope, a 40m nursery slope and 4 lifts.
Norfolk Snowsports Club – with a 170m slope.
There you can hire a private instructor or join a group lesson. Private instruction is more expensive, but offers the beginner undivided individual attention and faster progress. Group lessons, on the other hand, are slower, but more affordable and fun, especially if you go with a friend.
Travel agencies in Britain (such as us), organise ski holidays and offer pre-bookable lessons, making all the necessary arrangements and ensuring that any issues with the ski or board school are immediately resolved.
You can check these guys on Youtube before you hit the slopes!
How much time will it take you?
Well, that depends on several factors. For example, what is your fitness level? (if you feel that you are not on a decent fitness lever, a home cross trainer is the best way to improve your lower body strength) How old are you? How often will the lessons be conducted? Will you have a private instructor or a friend teaching you?
If we pick the average adult learner, with proper ski equipment and an experienced instructor he or she will be able to ski a simple green terrain at the end of their first lesson, but it will take around a week to feel really comfortable on your new skis.
The "Après - Ski" Experience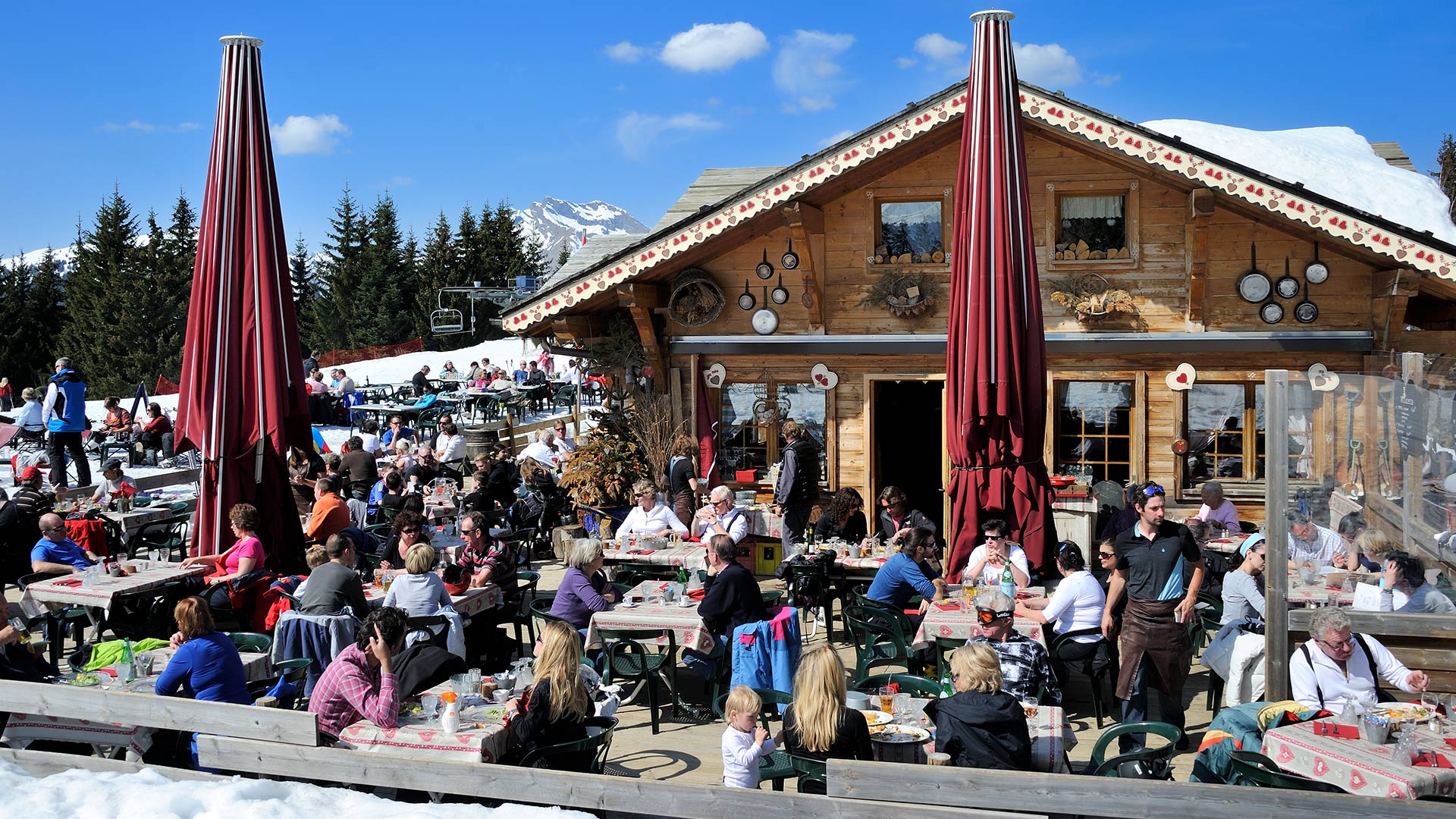 Après - Ski ("after skiing" in French) is the term skiers use to refer to the entertainment they enjoy in a ski resort, usually during the night, after having spend most of their day on the slopes. Relaxing around a fire with a drink, joining the party, having a nice dinner or taking a hot soak in an outdoor Jacuzzi are just some of your "Après – Ski" options.
"Après - Ski" has eventually become a whole culture, inseparably associated with skiing, especially in the Alps, where skiers stop at bars after their last run of the day while still wearing their gear. Most experienced skiers will tell you that after hours of skiing, having a drink with friends or joining a wild party with other skiers is often an unforgettable experience.
Types of Skiing
Three are the main types of skiing, each with its distinguishing characteristics and features:
Alpine or downhill skiing is usually performed on trails and pistes and is actually skiing down a slope. It requires the use of fixed - heel bindings, attached both at the front and the back of the skier's boot. Such equipment hinders walking and that is why most resorts have ski lifts that help skiers reach the top of the trail.
Nordic skiing includes cross-country skiing (skiing on a flat, snowy surface using the body for momentum and resistance) and ski jumping. Its equipment differs from Alpine in using bindings that attach only at the toes of the skier's boots. Cross - country skiing requires good stamina and physical condition and can take place on groomed trails and in undeveloped backcountry areas.
Telemark skiing is a certain technique of downhill skiing that combines features of both Alpine and Nordic skiing. It requires a certain type of equipment, with bindings similar to those of Nordic skiing, that allow the skier to turn and keep his speed under control.
Basic Skiing Terminology
Here you can find terms and expressions a beginner should know before skiing for the first time.
Binding: A connector between the ski boot and the ski.
Cable car or Tram: Two cabins, suspended on cables, transporting skiers to the top of the mountain.
Chute:A steep trail surrounded by rocks.
Fall line:The most direct route down the hill.
Fixed grip lift:A surface chairlift that pulls skiers by cable to various levels of the mountain.
Glade skiing:Skiing between trees.
Gondola:Small suspended cars that carry four to ten skiers up the hill.
High season:Usually from February to early March, when lift tickets and lodging are more expensive.
Low season:usually before Christmas, when lodging and lift rates are available at lower prices.
Off-piste:uncharted ski areas.
Regular season:In regular-season lift prices are higher than low season's and lower than during the holiday and high seasons (usually January to April).
Rope tow:A moving rope that skiers grab to be towed up the mountain.
Shovel:The front of the ski.
Sideslip:A technique for descending a hill by sliding down sideways on ski edges.
Sidestep:To climb a hill using sideways footing.
Ski brake:A required attachment for skis; it keeps skis from going downhill without you.
Slalom:A race with tight turns around obstacles.
Snowplow:To put skis in V-position to turn or slow down.
Tail:The back of the ski.
Traverse:To ski across the mountain rather than down.
White out:Poor visibility due to a combination of fog and snow.
Types of trails – pistes
In European ski resorts, pistes are classified by a color-coded system. There are some differentiations in some countries but in most cases:
Green stands for slopes suitable for beginners - large, open, with gently slopes.
Blues are easy trails with slope gradients of no more than 25%.
Red is an intermediate slope, steeper or narrower than a blue one.
Blacks are slopes for very experienced skiers.
Orange ones are extremely difficult and require expert skills and years of experience.
Yellow stands for off – piste unpatrolled slopes.
Ski Equipment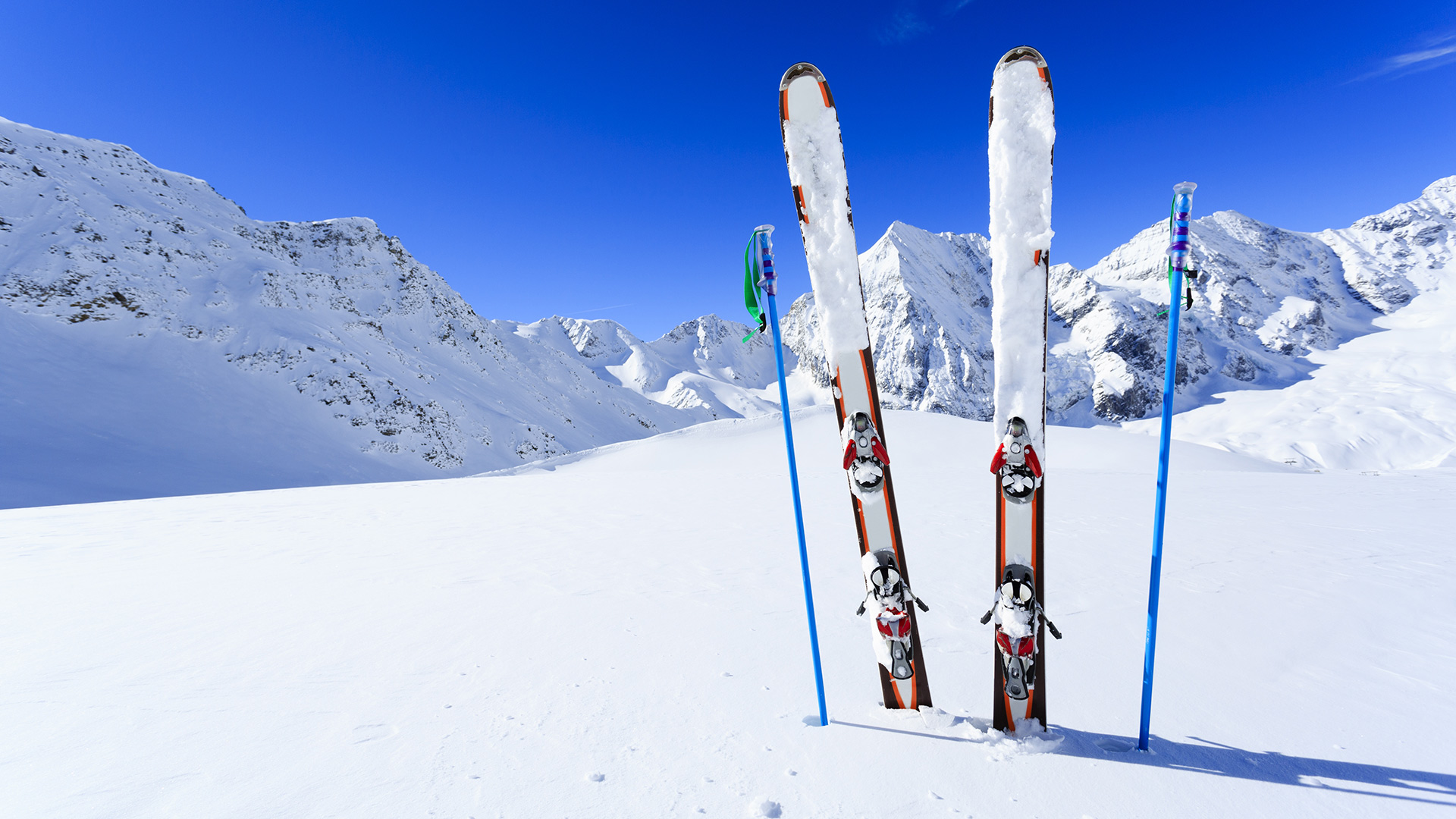 Standard skiing equipment includes:
Skis
There are several types of skis, adjusted to the type of skiing and the conditions the user prefers. First, we will mention the characteristics of each type and then recommend which one is best for beginners.
Surface: some skis have skins applied for uphill traction or wax applied for minimizing sliding friction.
Shape: most skis have steel edges, camber, side cut and sometimes reverse camber. Twin-tip skis are designed to facilitate both forward and backward movement, usually for freestyle skiing.
Alpine: their most distinguishing characteristic are their fixed - heel bindings.
Nordic: skis are usually lighter, with unbound heels that facilitate walking. They include:
Cross-country skis: light and narrow, with a slight side cut.
Skating skis: shorter than usual.
Ski jumping skis: flexible, longer and wider than usual.
Your skis should be no longer than chin height.
Boots and bindings
Boots and bindings are essential for controlling skis and remaining on trail. Bindings are not just straps: they are complex devices connecting the boot to the ski. They are also designed to unbind when force limits are exceeded, thus protecting the skier from injury.
There are different types of bindings for different types of skiing. The suitable DIN setting is a complicated equation of age, ability, height and weight so when asked by the retailer, please say the truth.
Poles
Poles are essential for balance and propulsion. They are usually made from an alloy of aluminum and carbon fiber. There are several types, adjusted to the type of skiing you prefer. For example, racing poles, downhill and speed skiing poles are designed to bend around the skier's body to minimize drag, while cross – country skiing poles are longer for more propulsion.
Helmets and ski suits
Helmets are usually made from hard plastic/resin shell with inner padding and sometimes have additional features like vents, earmuffs, headphones and camera mounts.
Ski suits are made from wind and water resistant or waterproof fabric and are worn over the clothes while skiing. They can either be one - piece, like a jumpsuit, or two-piece (ski jacket and trousers). One-piece suits cover the torso, arms and legs. Other suits may be padded for extra warmth. Ski jackets cover the arms and torso, sometimes just to the waist while other times reaching down over the buttocks, while matching ski pants cover the legs.
Style is good, but a beginner should opt for a good - quality and breathable ski suit, along with a fleece. Sunglasses, gloves, sun - cream and lip balm are also very helpful. Make sure your sunglasses are shatterproof and have good quality with quality lenses. Gloves should be pliable and warm. Prefer a factor 30+ sun cream, because sun rays are stronger up in the mountains and can burn parts of your face. Never go out on the slopes without sun cream, and remember to use it more than one time during the day.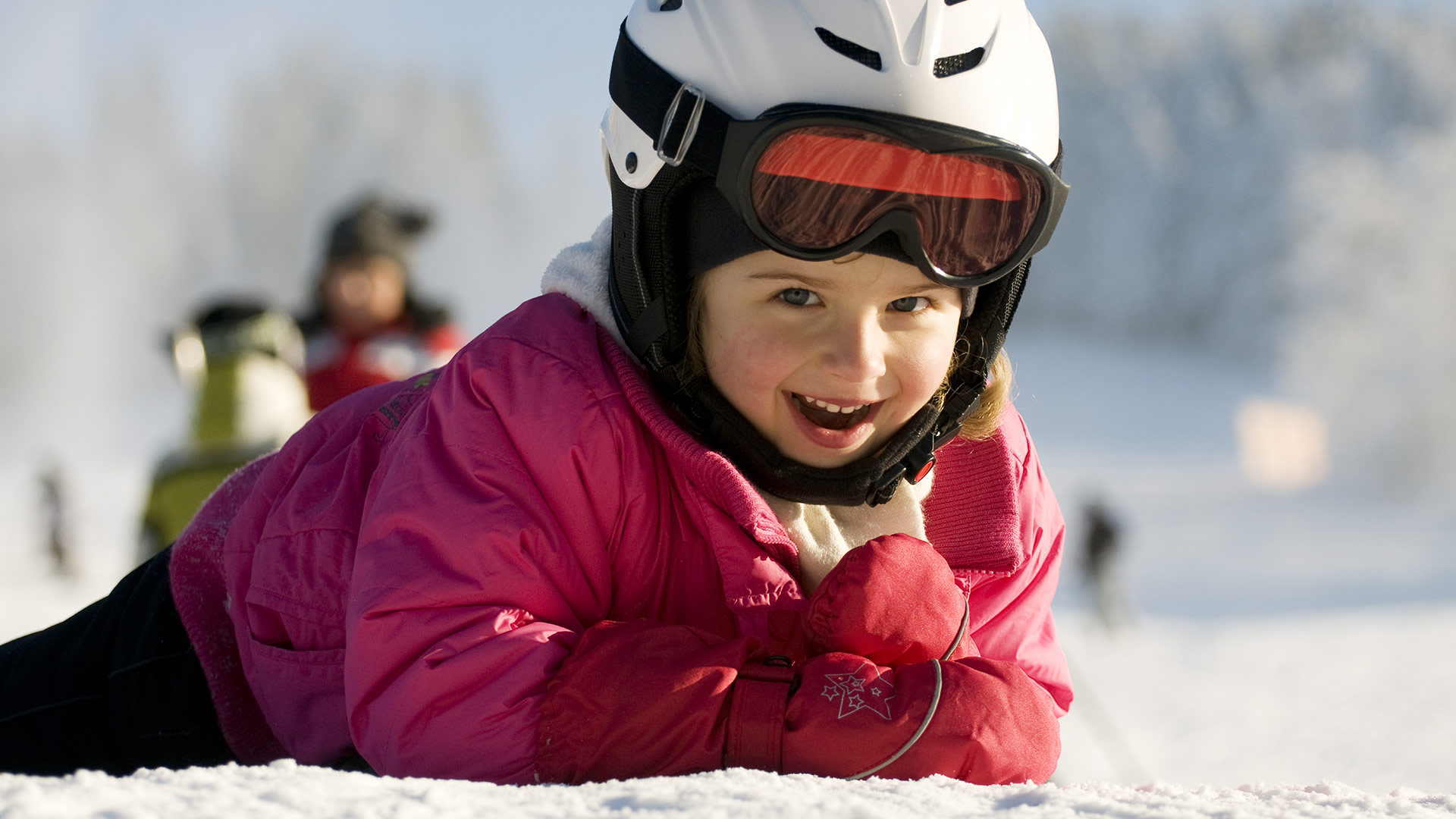 Cost
First of all, it's better to borrow equipment rather than buying it, until you feel you have mastered the basics. Then you should either buy used equipment or new one, but be prepared for a relatively large sum (inc flight cost), if you want to get high quality gear.
Bear in mind that the most important part of your equipment is boots: all your movement and transfer of energy start with your feet and frozen toes won't allow you to enjoy the ride. If you want to lower the general cost, buy suits and skis of inferior quality or used but don't buy used boots if you can avoid it. Make sure the boot's flex index matches your experience and level. Spend at least 20 minutes walking in your new boots before purchasing them. Bindings and boots usually cost around £220.00.
Beginners should opt for shorter skis, which will make things easier for them at the beginning. Longer skis are for more experienced skiers that need stability at high speeds. You will probably pay around £250.00 if you buy a brand new set.
Ski suits have to be of relatively good quality too. Shivering while sliding on the slopes will not help you enjoy the experience. A brand new one will probably cost around £200.00.
Best prices and discounts are available either at the start or at the end of the season (usually April), though options then may be limited.
Another option is hiring the whole equipment. Prices vary from place to place, but usually you can get the gear for around £20.00 per day.
How to choose a ski resort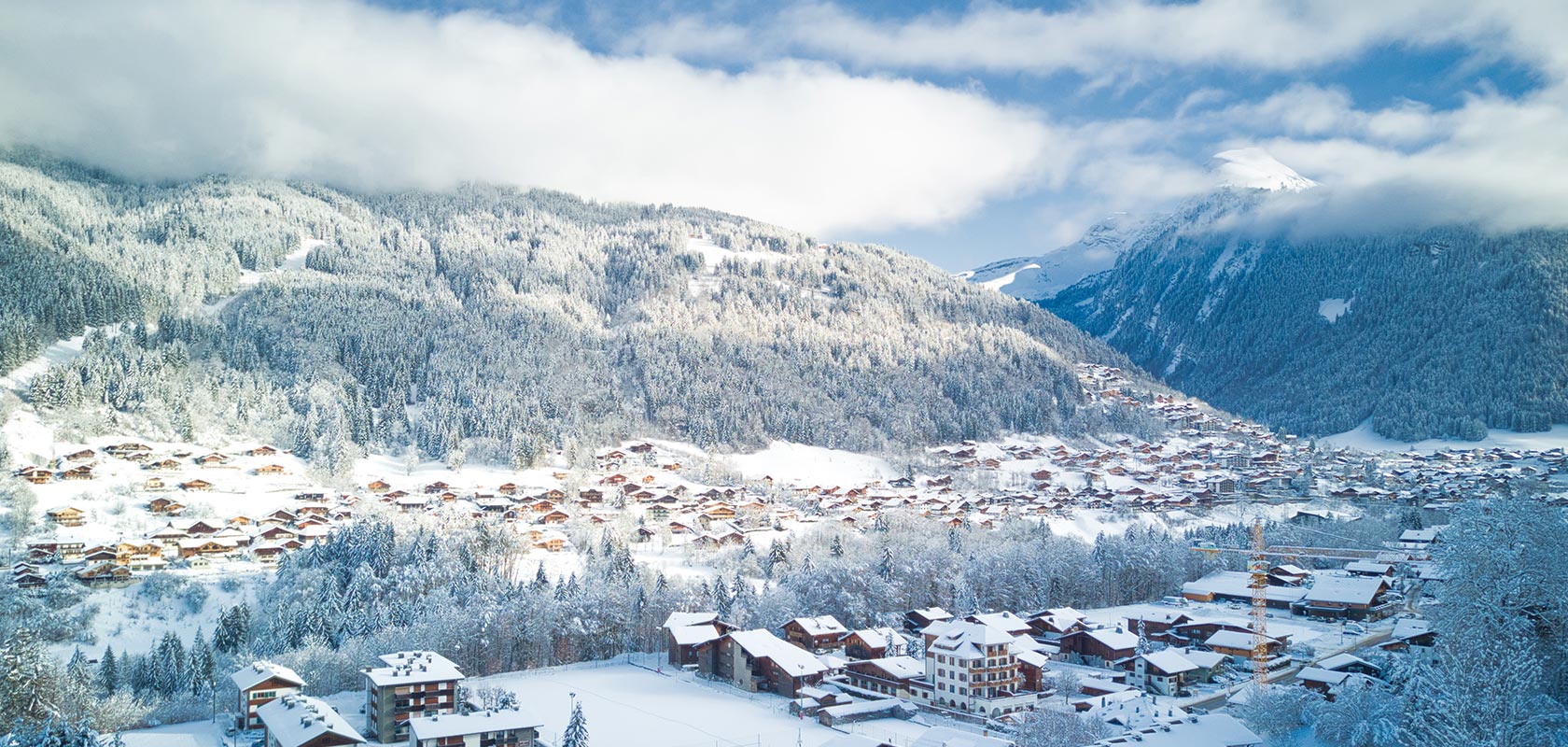 Ski Resorts have clearly defined paths for skiing known as runs, trails or pistes, and chairlifts or similar systems transporting skiers to the top of the pistes or to other runs.
All resorts have a first aid facility and a ski patrol service, which makes sure that the skiing area is safe for skiers. Some ski resorts also offer accommodation on the slopes themselves, with ski-in and ski-out access which allow skiers to ski right up to their door.
There numerous ski resorts all around Europe, and choosing one is not an easy task. The best thing to do is narrow down your options based on factors such as your budget, experience, age etc. Ask yourself and your companions:
Do we seek relaxation or adventure?
Would we prefer the bustle of a more cosmopolitan ski resort?
How far are we willing to go?
Answering such questions will help you quickly locate the ski resort that's right for you.
By the end of your first trip you will have completed your first run, but only if you choose a ski resort that is suitable for beginners: opt for one with many green runs and experienced instructors.
Most large ski resorts have expensive lift passes to cover the whole terrain, but beginners rarely have to pay for that, because they will be able to ski only in certain trails and runs. Hence, before buying a lift pass, ask your instructor which areas are most suitable for you.
Accommodation
Since you are new to the wonderful world of skiing, chalets are your best option. You can find there all the equipment you need, along with professional instructors. If your budget is limited, check out our latest ski deals for our best offers.
It is better to leave trip preparations to someone who has done it before. If you have nobody to help you, consult a ski holiday agency.
Fun & Safety on the slopes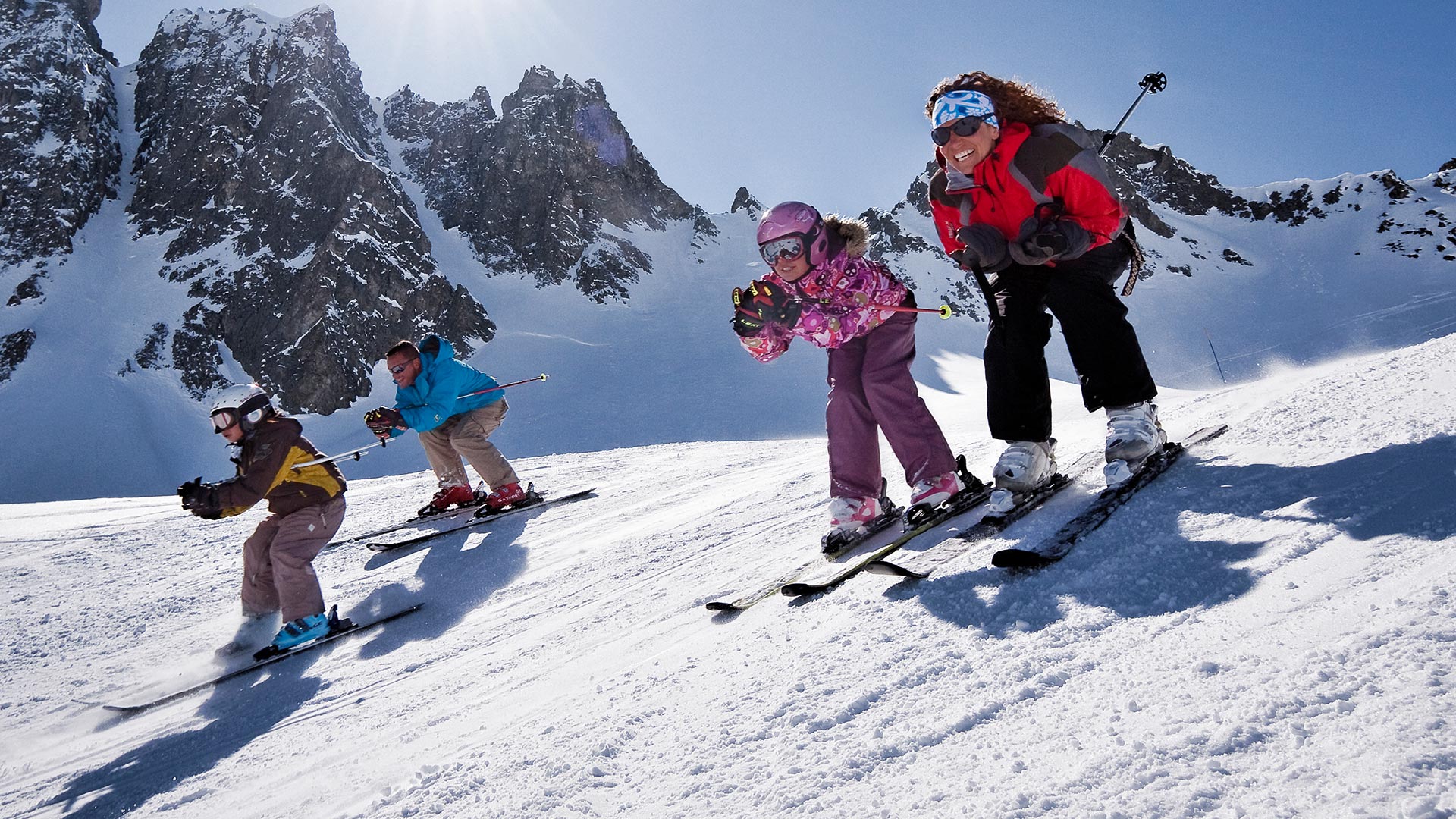 Skiing is a fun and safe sport. The most important thing you should have in mind is that you must adapt your speed to your ability and experience.
Remember that the skier in front has priority. Always look uphill before setting off. Generally avoid turning on the ice – which demands more skill and experience. Prefer skiing on the powdered snow. Never go off – piste and never lose respect for the mountain.
Confidence on skis is built slowly but lost quickly. So take good advice from local instructors and stick to it. Resist the temptation to ski with more advanced skiers. Fun should never overwhelm your sense of self-preservation.
Alternative sports and Activities in Ski resorts
Ski resorts often offer visitors all sorts of different winter sports and activities that spice your holidays, like
snowmobiling,
Snowboarding,
sledding,
ice - skating,
indoor or outdoor swimming,
hot tubing,
game rooms,
spa relaxation,
paragliding,
and much more. If you plan to take your kids with you, find a resort that offers "free child" deals or at least packages including childcare, i. e. free supervision of children before bedtime. Of course, most teenagers are not so fascinated with nannies, so check whether the resort has games rooms, film libraries and fast Wi-Fi.
A final nudge…
Just imagine yourself feeling the thrill of speeding down a bold slope and pumping your adrenaline and then warming up with some mulled wine and enjoying yourself with your friends or sweet heart in an Après – Ski bar, after having the time of your life on the mountains and marveling the stunning alpine views and the majestic scenery.
Such thoughts are even better when realised. If that's what you plan to do, then you should:
Get some ski lessons.
Get your equipment.
Find company (family or friends).
Choose the resort and estimate the cost. Asking the help of a travelling agency is always a good idea, especially for beginners.
Decide when you will go and for how many days, and then book as early as possible.
Skiing offers something for the whole family, and can be enjoyed into old age. You will also have the chance to make new friends and live some of the most memorable moments of your life.
Skiing is addictive. Just plan your first skiing adventure carefully and you will surely be skiing for the rest of your life.
Back to Blog