A Day Mountain Biking in Tignes
By Michael Morris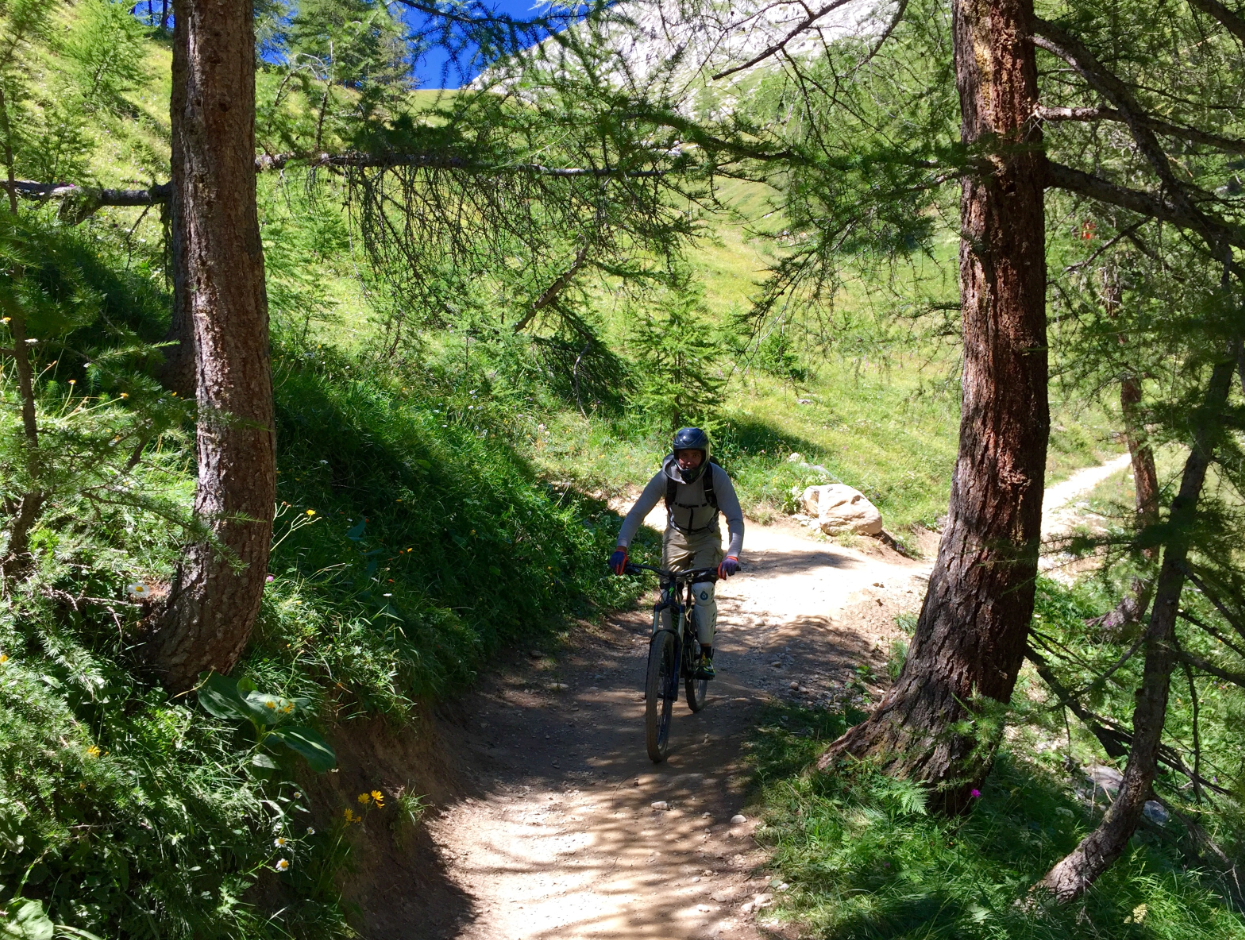 This is my mate Ben riding down into val D'Isere after an epic day out
A blast, even for a beginner!
We had an absolute blast last summer riding around the tracks and trails in Tignes whilst staying at Alpine Elements' Hotel Haut Toviere and here's my account of what we did.
I couldn't exactly be described as a 'serious biker'. In fact, I've done it once before in Morzine for just half a day! Armed with a 'Pro Bike' as the guys at Alpine call them (this is really just a decent quality full suspension bike) and a set of body armour, we grabbed our lift passes which are free to all visitors staying in Tignes with a registered Operator like Alpine. The body armour was perhaps a tad 'over kill', and in fact one of our party had nothing but a T-shirt and a normal open face bike-helmet on. I felt like a bit of a 'Storm Trooper' in all that gear, but I guess if you're gonna do it - then do it properly!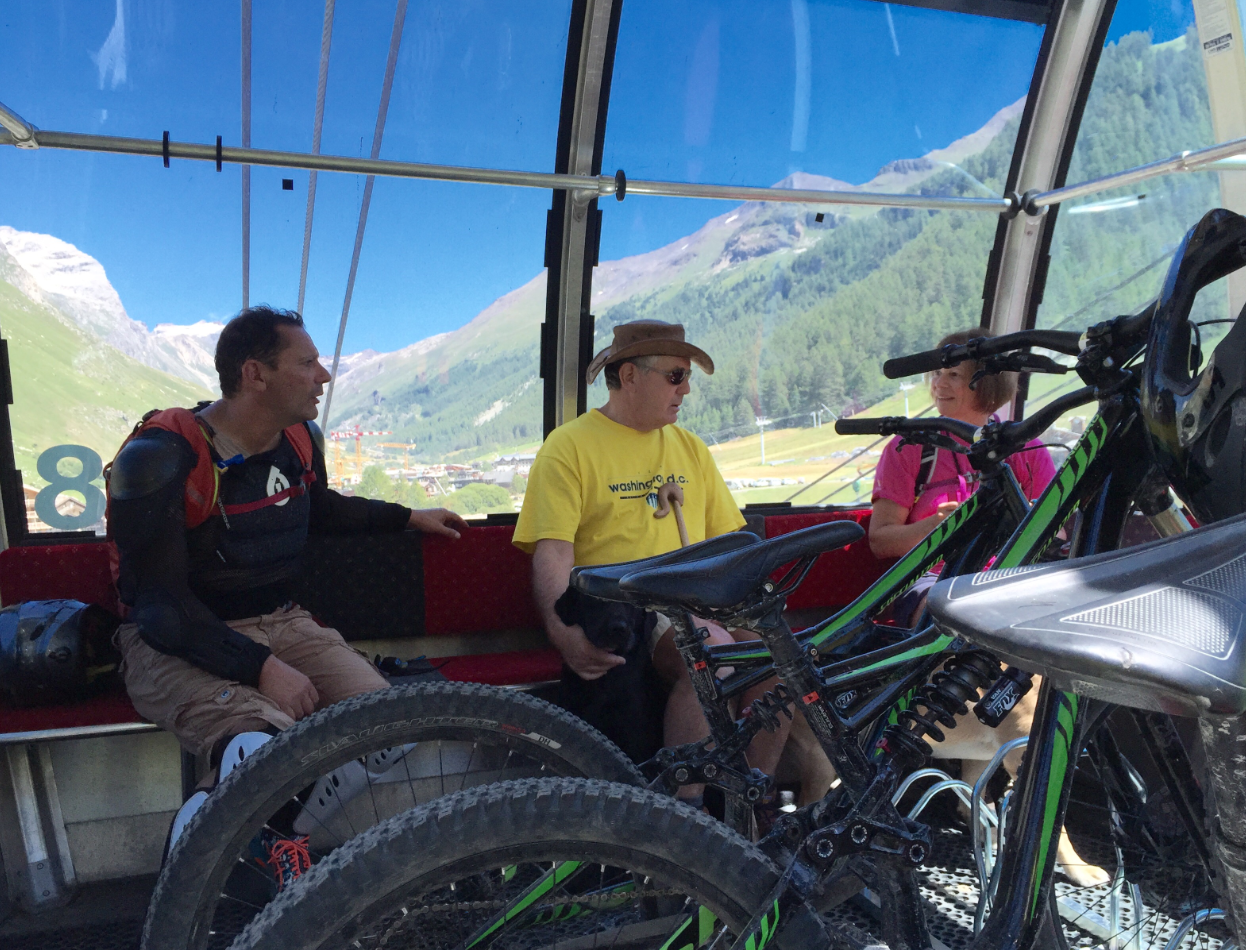 Getting the gondola back up to the top with some walkers.
Suited up and ready to roll
Suited up and ready to roll, we played around on our bikes as we headed over to the Toviere lift which is a couple of mins ride from the hotel. The lift is an 8 or 10 minute cable car ride to the very top of the ridge that separates the Tignes sector from Val D'Isere and the full area is all included on the same lift pass.
The bikes simply roll on and off the lift with no dramas at all, and once at the top - I must admit that my adrenaline was pumping and my nerves were definitely tingling as we saw an array of incredible looking bike tracks laid out below us. The sun was shining, (typical of Tignes), we had all day to ride and so we set off slowly and carefully... probably too carefully in fact!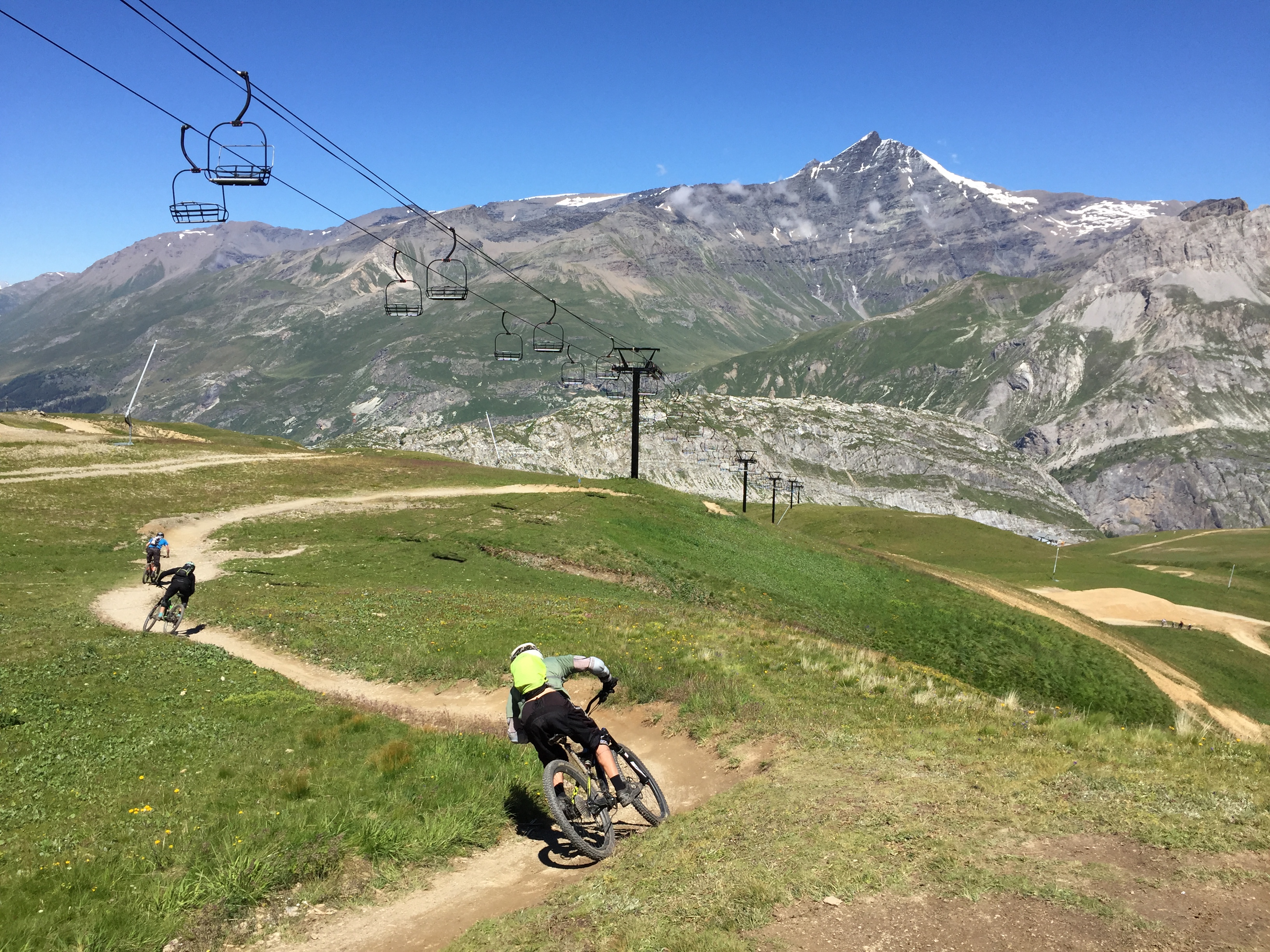 The trails stretching out before us: easy-ish line-of-sight riding. No super-skills required
Banked corners, humps and (very small) jumps
But I needn't have been worried. The tracks are not that steep and you soon get into the groove of it all. Apply small dabs of brakes (not too much) and let the banked corners swoop you around. The great thing about riding up here is that the terrain is very open and you can see around all the corners and exactly what's coming up. If you can't manage a section (a tricky little corner perhaps) then just allow the bike to ride off to the side. No drama. Again, it is not too steep.
If you know where to go - and we did because the Alpine reps gave us a Route Card - then you don't need to hit the hard stuff. Just stay on the open green trails and you can ride all day - like we did - eventually ending up in neighbouring Val D'Isere. And my oh my it's a pretty scene! The valleys and mountains are simply stunning and you really feel like you're on an adventure.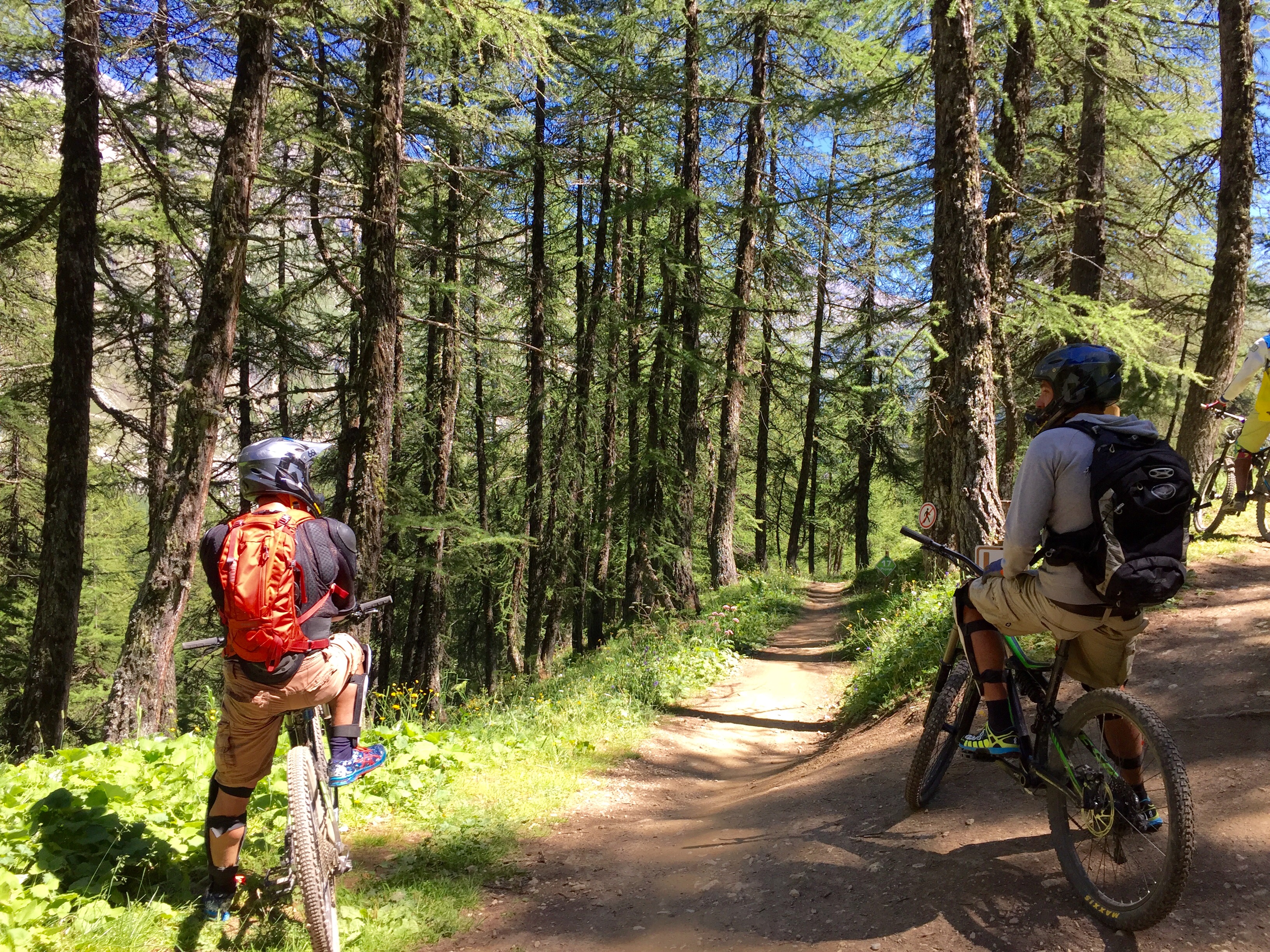 My Tip
Remember to take water, sun cream and lunch because the mountain restaurants are pretty expensive (and few and far between) and you're in for a great day out. And do hire a full sus' bike. They are an expense and need to be booked in advance. You can ride some high lift assisted trails on a normal hardtail bike but if you want to make the most out of it all (and stop on the corners!) then we reckon a full susser is what you need!
You probably don't need the full-on armour and full-face helmets for what we did, but a set of shin pads are a good idea.
Back down to base and the calm of Tignes' lake for an afternoon of swimming and relaxation
Back to Blog